Confused 'Fox & Friends': Mueller Report Clears Trump But Its Credibility Is Collapsing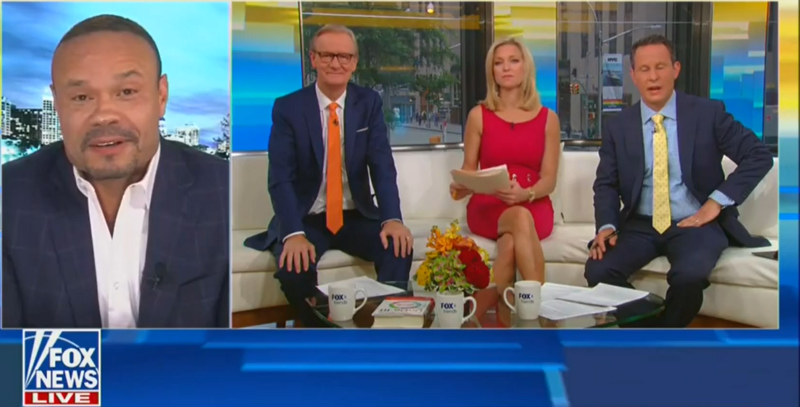 Fox & Friends tried to have the Mueller Report both ways Monday morning and ended up making confusing and contradictory claims. At several points throughout the show, the hosts claimed that Democrats wanted a do-over of the report because it was disappointing for them, but then ran a segment that undermined the report's supposedly disappointing findings.
Fox News contributor Dan Bongino criticized the Democrats' decision to interview John Dean, who was famously involved in Watergate, claiming that this was just an attempt to distract from the poor credibility of the Mueller Report.
"John Dean, you know, a former felon," Bongino said, without noting why Dean had committed crimes during the Nixon administration.
"They don't have anything. And this goes back to what the're really doing, Brian. This whole charade they are engaging on this week in these impeachment hearings, it's an act. What they're trying to do is distract you from the fact that the Mueller probe is completely collapsing – its credibility."
Bongino has spent a lot of time trying to undermine Mueller and his findings. However, this attitude directly contradicted the claim that Mueller exonerated the President. Co-host Ainsley Earhardt read a tweet from Trump which was critical of Mueller but also said Mueller had cleared him.
"Despite the bias, when the report came out, the finding were no collusion and facts that led to no obstruction. The Democrats were after all this time and money spent, $40 million, the Mueller report was a disaster for them. But they want a redo or do over," Earhardt read.
Despite this claim of exoneration, Bongino went on to attack the 'collapsing credibility of the Mueller report' with no apparent irony. If the Mueller probe lacked credibility, its findings must be suspect, undermining Trump's claims of exoneration. Either the report is credible and Trump was cleared or the report wasn't credible and its findings can't be trusted. This is the dichotomy Fox News has presented. Fox wants to have it both ways.
This isn't the first time President Trump and his defenders have encountered this problem. The Mueller Report swings between total exoneration and complete witch hunt depending on the President's mood.
Watch the video above, via Fox News.