Fox's Judge Nap Disagrees With Dershowitz, Calls For Mueller To Testify In Public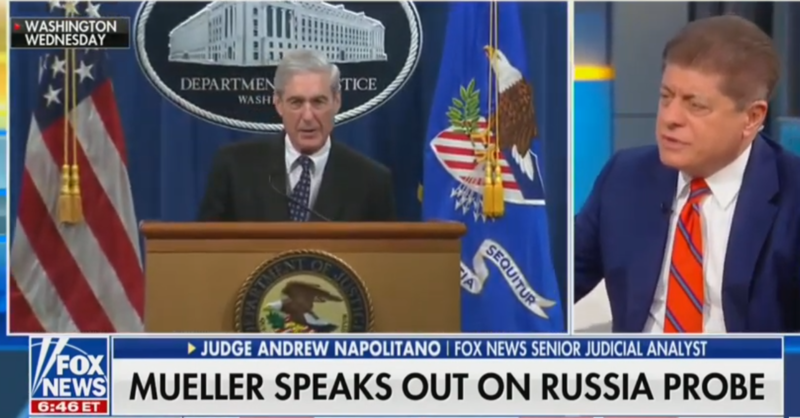 Judge Andrew Napilotano appeared to break ranks on Fox & Friends Thursday morning when he called for Special Counsel Robert Mueller to testify publicly before Congress. The program had spent the morning criticizing and downplaying Mueller's press conference.
The hosts asked Napolitano if he agreed with Alan Dershowitz, who yesterday accused Mueller of trying to help the Democrats. Napolitano, who has often failed to toe the line on Mueller, said he disagreed with Dershowitz and defended Mueller.
"No, I don't agree with that," Napolitano said. "I still think that Bob Mueller is a clean, honorable guy. He did some stuff when he ran the FBI that I think is indefensible. No reason to get into that now. But I think he's a marine and he didn't want to challenge his boss Bill Barr in public. And the reason no indictment of the President came down is because the attorney general would not permit one."
Co-host Brian Kilmeade tried to get Napolitano to criticize Mueller, citing apparently conflicting reports from William Barr and the Special Counsel about why Trump wasn't charged. But the judge surprised the hosts by calling for public testimony from both men.
"Look, I think they are going to testify next to each other at the same time. That would be really dramatic," Napolitano said.
"Not in public," Kilmeade said. "Mueller says I gotta go behind closed doors or not at all."
"Listen, they work for us, we don't work for them," Napolitano said. "If they testify in secret, the Republicans will come out and give their version, the Democrats will come out and give their version. We're adults. The government works for us. We're entitled to see the spectacle."
The hosts seemed taken aback by Napolitano's suggestion, and he went on to say that a sitting president can be indicted.
Watch the video above, via Fox News.