Dan Crenshaw Accuses Colleagues of Conspiring to Make Him Look Bad Over 9/11 Fund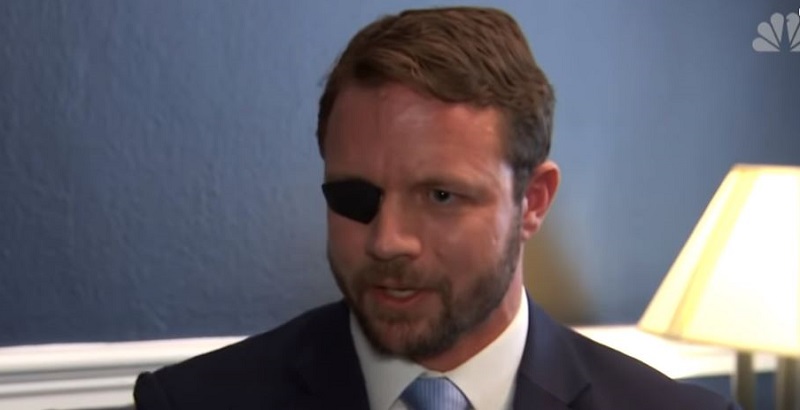 Rep. Dan Crenshaw (R-TX) has quite the conspiracy theory mapped out in his head for why he got some bad press this week.
The Texas congressman is accusing one of his colleagues, Rep. Max Rose (D-NY), of conspiring with a disabled New York City firefighter to get revenge on him over his recent criticisms of Rep. Ilhan Omar (D-MN) for some comments about 9/11 she made that conservatives decided were too flip.
Let's go down this rabbit hole.
Last week, a video of Omar surfaced in which the Minnesota congresswoman said that "some people did something" on 9/11 that resulted in the entire American Muslim community seeing its civil liberties curtailed. Crenshaw, like most of the right-wing outrage machine, clipped those four words from Omar's speech on the subject to remove the context about civil liberties and called her comments "unbelievable." Crenshaw's statement was part of the backlash against Omar that led to an increased number of death threats against her.
Enter Rob Serra, the retired members of the NYFD. He claimed on Twitter that Crenshaw, while wrapping himself in the flag to criticize Omar and thump his own chest about the 9/11 attacks, had only days ago blown him off in a hallway when Serra came to Congress to lobby to renew the 9/11 Victim Compensation Fund. Crenshaw allegedly told Serra he was "too busy" to talk about the fund but would have his staff look at it. He still has not taken a position on it.
Omar and Rose, meanwhile, are two of the co-sponsors of the bill to renew the VCF.
Called out on this apparent double standard this week in an interview with The New York Daily News, Crenshaw accused Rose, who represents Serra's district, of "conspiring" with the retired firefighter to make him look bad, saying "there a more malicious underlying motive here."
His evidence of this alleged conspiracy? Rose, or whoever runs his Twitter account, retweeted Serra's tweet about the alleged brush-off. That's it.
Rose's office denied the allegation and said that Serra's tweet was the first the congressman had heard about the incident.
Meanwhile no one, least of all Crenshaw, has actually wrestled with Omar's larger point about the civil liberties of American citizens that were degraded in the post-9/11 panic. Why bother when, like Crenshaw, one can play the victim?
Watch Crenshaw defend himself in the video up top, via NBC News.