Attorney General William Barr: 'I Think Spying Did Occur' on Trump Campaign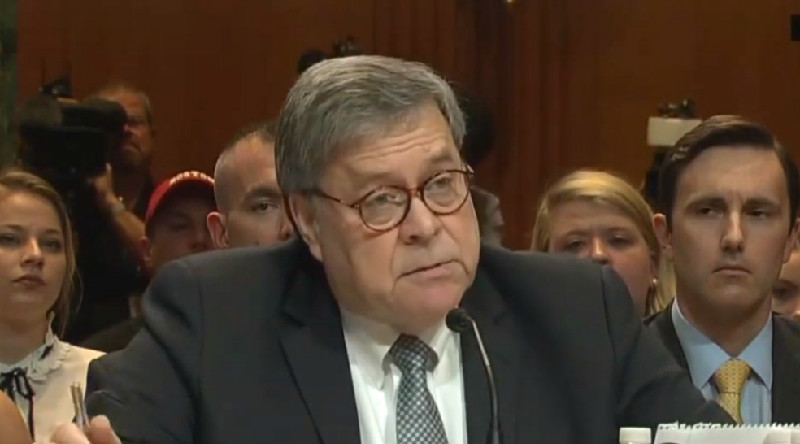 During his testimony before the Senate Appropriations Committee on Wednesday, Attorney General William Barr parroted President Trump's long-held assertion that the Obama administration spied on his campaign during the 2016 presidential election.
Pointing to reports that Barr has assembled a team of investigators to look into why the FBI opened an investigation into Russian interference during the 2016 election, Sen. Jeanne Shaheen (D-NH) asked the attorney general why he "felt a need to form that kind of a team and what you intend to be the scope of their investigation."
Saying he had said during his confirmation that he would be "reviewing both the genesis and the conduct of intelligence activities directed at the Trump campaign during 2016," Barr stated that while a substantial portion of this has been investigated by the inspector general, he wants to "pull together all the information" and "see if there are any remaining questions to be addressed."
Asked if he could share any information, Barr said that he believes "spying on a political campaign is a big deal," adding that he's "not suggesting" law enforcement agencies violated rules but does think "it's important to look at that."
"So you're not suggesting, though, that spying occurred?" Shaheen followed up.
"I don't — well, I guess you could — I think there was spying did occur, yes," Barr replied. "I think spying did occur."
He added: "The question was whether it was predicated, adequately predicated. I'm not suggesting that it wasn't but I need to explore that. I think it's my obligation."
For the past two years, President Trump and his allies have accused the "Deep State" actors within the Obama administration, FBI and Clinton campaign of wiretapping the Trump campaign, setting up the infamous Trump Tower meeting with Russians, and funding the Steele dossier as a way to start the FBI investigation into Russian interference.
Watch the clip above, via CNN.