Schiff Passionately Makes Collusion Case After Republicans Call for His Resignation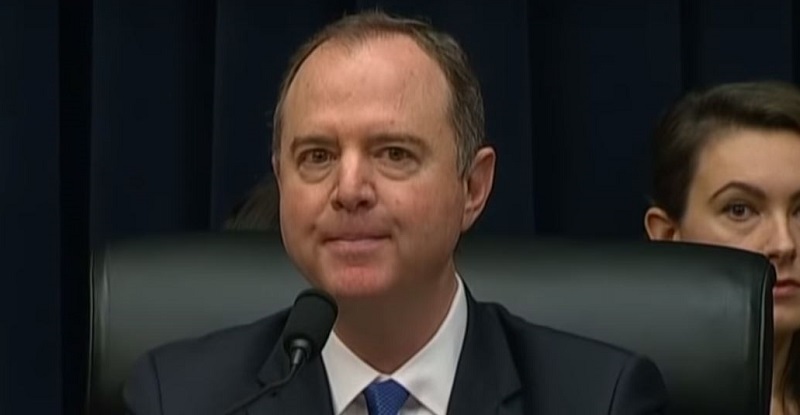 A House Intelligence Committee hearing to discuss Russian methods of meddling in the elections of foreign nations got off to a fiery start Thursday morning when Republicans used their opening statement to demand Rep. Adam Schiff (D-CA) resign from the committee's chairmanship.
Ranking member Rep. Devin Nunes (R-CA) had been invited to give an opening statement. He quickly yielded his time to Rep. Mike Conaway (R-TX), who proceeded to attack Schiff. The committee chairman has been a favorite target of Republicans for months over his dogged insistence that evidence of collusion between the Trump campaign and Russia during the 2016 election exists.
President Trump and his lackeys in the right-wing media have been particularly vocal about Schiff since Attorney General William Barr submitted his summary of the special counsel's report on Sunday. They have attacked Schiff, sent letters to news networks suggesting he be blacklisted from appearing on their shows, and called for his resignation from Congress.
That all led up to Conaway's attack at the hearing. He rehashed the committee's earlier finding–when Republicans were the majority–as well as the attorney general's summary of the special counsel report that there was no such collusion. He then accused Schiff of abusing his position "to promote false information" and "damaging the integrity of the committee." He then submitted into the record a letter signed by all the Republicans on the committee demanding Schiff's resignation.
Schiff took a moment to gather himself. Then he responded with a nearly five-minute recitation laying out his case for possible collusion.
"My colleagues might think it's okay that the Russians offered dirt on the Democratic candidate for president as part of what was described as what was described as the Russian government's effort to help the Trump campaign. You might think that's okay," Schiff said. "My colleagues might think it's okay that when that was offered to the son of the president, who had a pivotal role in the campaign, that the president's son did not call the FBI…that son said he would love the help of the Russians."
Schiff continued in this vein, working himself up until he was thundering at the Republican side: "You might think it's okay that the president himself called on Russia to hack his opponent's emails if they were listening. You might think it's okay that later that day Russia attempted to hack a server affiliated with that campaign. I don't think that's okay."
Laying out these facts and repeating the phrase "You might think it's okay" made it very clear which side Republicans are on, and it is not the side of getting to the truth of what happened in 2016. Even if Schiff did agree that there was no collusion with the Trump campaign, there is still the matter of Russian outreach to Trump surrogates and its social media influence campaign. That Republicans would rather concern themselves with attacking Schiff instead of securing the 2020 election against a repeat of 2016 is perhaps the most damning indictment of the whole affair.
Watch the clip up top, via Fox News.