Fox News Pundits Apparently Know the Mueller Report Is 700 Pages Long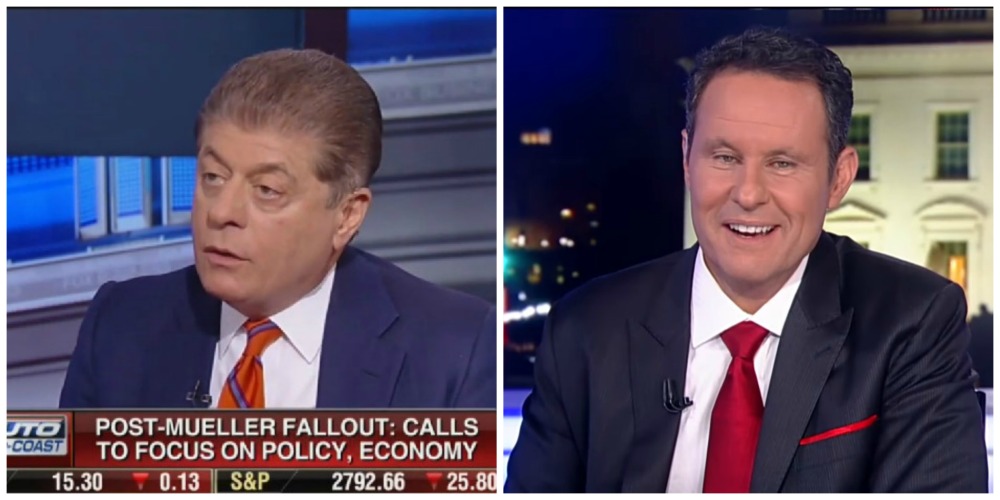 How long is the Mueller report, anyway?
Political observers noticed on Wednesday that Judge Andrew Napolitano seemed to reveal the report's length on an episode of Cavuto Coast to Coast. While cautioning Fox Business viewers that the report might not be the complete vindication that President Trump has been claiming, Napolitano noted that the public has only seen a four-page summary. The main report is "a 700-page…summary of two million pages of documents, of raw evidence."
Where was he getting that number? It turns out it seems to have been evolving on Fox airwaves.
Early Tuesday morning on Fox & Friends, Brian Kilmeade claimed the report is 675 pages long. He also said that "experts" believe that "100-plus pages" will be released sometime in the next few weeks:
It is unclear who these "experts" are who gave Kilmeade this information.
By Wednesday morning, Kilmeade had upped his numbers. He told the audience that he believes "the report is tens of thousands of pages long." The summary of those pages is allegedly 700 pages, and will be available in a few weeks:
Late Wednesday afternoon, Rep. Jerry Nadler (D-NY), who heads the House Judiciary Committee, told reporters that he has been informed by Attorney General William Barr that the report is "substantial":
Nadler says he and Barr spoke for 10 minutes. He said he defines "very substantial" as less than 1,000 pages.

— Kyle Cheney (@kyledcheney) March 27, 2019
Obviously, what is in the report will be more important than the length. But it is curious as to where Kilmeade and Napolitano are getting these numbers. As far as anyone knows, the only people who have seen the report are in the special counsel's office and at the top levels of the Justice Department.
Contemptor has reached out to Fox News for comment and will update this post if they respond.