Buttigieg Fumbles Toward a Solution on Reparations During an Interview on 'The View'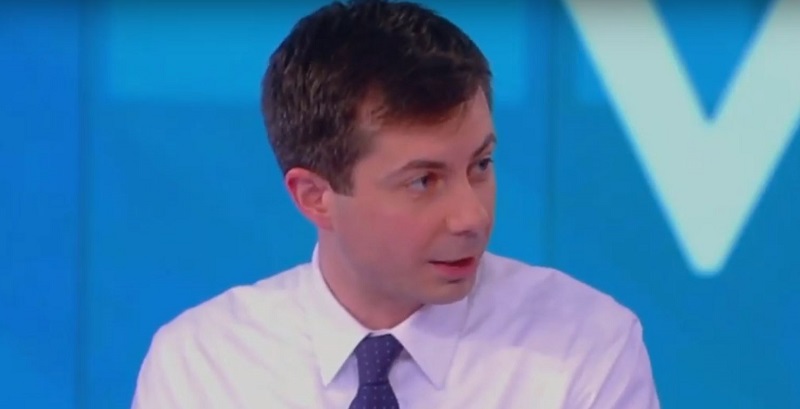 Mayor Pete Buttigieg spent some time with the hosts of The View on Friday for an interview that touched on a variety of topics, such as his faith, his willingness to talk to conservative voters and the ever-present question of how to pronounce his last name.
But it was his exchange with Sunny Hostin on the topic of reparations to African-Americans where Buttigieg ran into a challenge.
Hostin told Buttigieg she found him thoughtful, but had been unimpressed with an answer he gave in a townhall on CNN recently about the topic. So she asked him point-black, "Are you supportive of cash reparations for the African-American community?"
Buttigieg responded that he is supportive of "the concept of acting proactively to right these wrongs." His objection, he explained, is that the perception of a program that's just "a check in the mail" would make it hard to come up with a plan that is perceived as "fair."
He went on to detail some of the causes of the wealth gap between African-American and white communities such as redlining, which is the practice of banks and lenders, with the approval of all levels of government, keeping neighborhoods segregated by refusing to approve mortgages to blacks who wanted to buy homes in white neighborhoods. This practice, which was widespread across the country for decades, resulted in African-Americans only being able to buy property in poorer neighborhoods where the values of the homes rose at a much, much lower rate or even fell.
The result was that African-Americans were unable to amass nearly the level of personal wealth through home equity that white families could, which also hurts the descendants to whom wealth is passed on.
Hostin responded that "Japanese-Americans got money, Jewish-Americans got money. Why don't African-Americans deserve money?"
Buttigieg responded that there is a bill in the House of Representatives that sets up a commission to look at the issue, and that was where the interview ended.
The takeaway seems to be that advocates of reparations such as Buttigieg are wondering if there is a reparations program that could close the wealth gap in a way that would reverberate across generations. But Hostin's implication is that they are overthinking it, and the solution of cash disbursement to the descendants of slaves who have been shut out of America's prosperity is the simplest and most direct recompense.
Watch the video up top, via ABC.