Tucker Carlson Dominates Cable News Ratings Monday Night Despite Sustained Advertiser Boycott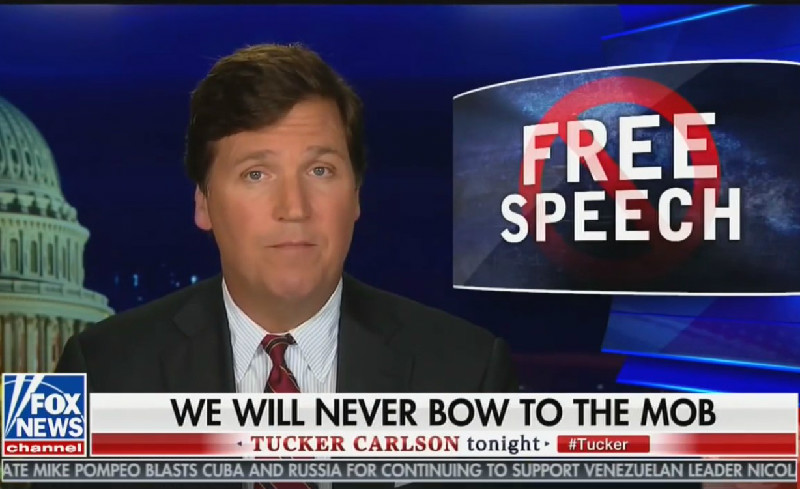 Amid a sustained advertiser boycott that has resulted in dozens of companies distancing themselves from the hit primetime news program, Fox News' Tucker Carlson Tonight easily led the way in the cable news ratings battle Monday night.
According to Nielsen, the 8 PM conservative opinion program tallied 3.171 million total viewers and 570,000 in the key advertising 25-54 demographic to lead cable news in both metrics.
In the same time slot, MSNBC's All In with Chris Hayes — which hosted a town hall forum with Democratic presidential candidate Kirsten Gillibrand — pulled in a minuscule 1.243 million viewers overall and 224,000 in the key demo, way below the program's averages. CNN's Anderson Cooper 360 averaged 267,000 demo viewers and 267,000 in the demo.
Overall, MSNBC's The Rachel Maddow Show, which airs at 9 PM, placed second in total viewership (2.977 million) and third in the demo (482,000). Fox's Hannity, which goes head-to-head with Maddow, finished third overall in total viewers (2.953 million) and second in the demographic (501,000).
Tucker Carlson's show has been suffering from an advertiser backlash since mid-December over his declaration that immigration makes America "poorer and dirtier." Carlson faced renewed calls for advertisers to ditch his program and Fox News to get rid of him after liberal media watchdog group Media Matters unearthed inflammatory and offensive remarks he made during appearances on shock jock Bubba the Love Sponge's radio show from 2006 to 2011.
Despite Carlson seeing an exodus of companies willing to run commercials during his show, the program has been able to sustain its stellar ratings. Days after the old radio clips were released earlier this month, Tucker Carlson Tonight led cable news across the board.
Of course, ratings only mean so much if advertisers are willing to pay to run spots during the broadcasts. Carlson, meanwhile, isn't the only Fox News option host currently under fire over controversial comments. Jeanine Pirro has also shed advertisers after suggesting Rep. Ilhan Omar (D-MN) didn't believe in the U.S. Constitution because she wears a hijab. She has since reportedly been suspended by Fox for two weeks, though the network won't confirm the punishment.
In the aftermath of the Bubba the Love Sponge comments, Fox News has confirmed that they are standing by Carlson. The Fox host, meanwhile, has insisted that he'll "never bow to the mob."