MSNBC's Maya Wiley: Meadows Parading Out Black Trump Staffer 'Most Offensive Thing' I've Ever Seen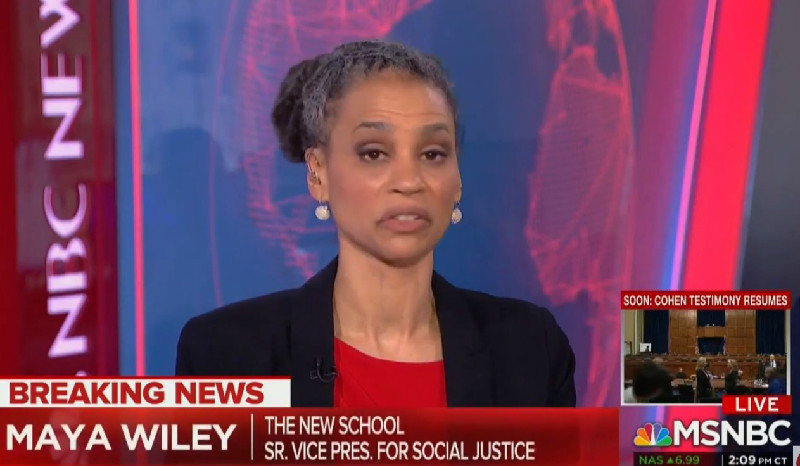 During a mid-afternoon recess of Wednesday's House Oversight Committee testimony of former Trump attorney Michael Cohen, MSNBC legal analyst Maya Wiley tore into Rep. Mark Meadows (R-NC) for parading out a black Trump administration official as a prop to prove that President Trump isn't racist.
After Cohen opened the hearing by delivering a lengthy statement that included accusations that Trump has long been racist towards black people, Meadows brought out HUD official Lynne Patton — a former Trump Organization employee and longtime associate of Cohen's — as a way to refute Cohen's assertions.
"Lynne Patton says she would not work for a man who is racist," he said. "She disagrees with you."
Discussing this moment Wednesday afternoon, MSNBC host Katy Tur asked Wiley what she thought of Meadows' stunt. To say Wiley was not pleased would be a huge understatement.
"Do you want my angry black woman response or my MSNBC analyst response?" she asked Tur before saying she has to "start as a black woman."
"That was the most offensive thing I have ever seen in my life," she plainly stated. "To take one person, parade her physically in front of cameras and say she works for Trump, therefore he can't [be racist]."
Wiley continued: "Even though we have a public record during the campaign of several incidents that called into question his racial attitudes, but one woman who works for him, who can be physically paraded out in front of the cameras, that was the most irresponsible moment I have seen on TV in a long time."
Tur asked if that was all she wanted to say about it, prompting Wiley to note that she "can't curse — it is not HBO."
Watch the clip above, via MSNBC.