Fox & Friends: Democrats Should Be Outraged Bernie Sanders Is Running For President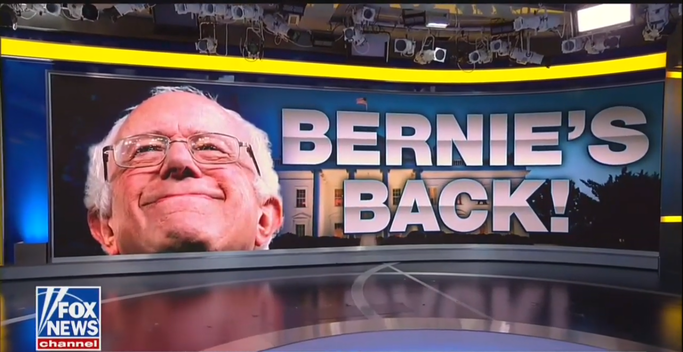 Senator Bernie Sanders is running for president and Fox News was quick to react to the news Tuesday morning. Fox & Friends, Fox News' flagship morning show, stoked fears about Sanders' socialism and once again brought up Venezuela, a popular talking point on the right whenever socialism is mentioned.
"Here we go. Another one in this race. We are up to nine," Brian Kilmeade said, referring to the number of Democrats running for president. "Bernie Sanders does what many people said he unofficially did over the weekend. Recorded an 'I'm in' video and announces I'm going to be in for 2020 like I was in for 2016."
While Kilmeade sounded tired while announcing the newest competitor for the Democratic nomination, Fox & Friends seemed to have a new tack for criticizing Sanders: he is not a member of the Democratic Party.
"The thing about Bernie now that he's s declared he is going to run for president on the Democratic Party," Steve Doocy said. "He has been a national leader ever since he ran against Hillary Clinton in 2016 and did really well. But even though he is one of the national leaders in the Democratic Party, he refuses to join the Democratic Party. He described himself as a democratic socialist, when you look at his agenda, it is very clear, in addition to universal healthcare, healthcare for all, many other things that made Bernie in 2016 stand out."
"Medicare for all. The single payer system. Free college. His Anti-Israel policy that was basically his foreign policy," Kilmeade intoned. "It won him New Hampshire, it almost took Iowa. It scared the heck out of Hillary Clinton and then all of a sudden Debbie Wasserman Schultz working behind the scenes cut his knees out along with the super delegates acquired before Bernie Sanders was actually in."
"What about the timing?" Kilmeade asked. "The timing of a socialist declaring for president one day after the president of the United States condemned socialism in Miami and we look at Venezuela as a case in point of what could happen to America with all our natural resources, with all our history like Venezuela, much richer than Venezuela."
"And all their oil resources, they have gone into the toilet as a country. They can't even stock their shelves with food that would be too expensive to buy anyway because of inflation," Kilmeade said, revisiting an old canard. "If I'm a Democrat, if I'm running the Democratic committee, I'd be outraged right now. He won't even join my party, yet he wants my nomination. I say hit the road. In or out?"
"Well they tried to create a law, a bylaw, for the DNC, apparently that's not true, Doocy added. "So anyway, the news this morning, Bernie is in it to win it."
Fox & Friends criticisms come despite their own reporting that Sanders is the second most popular choice among Democrats after former Vice President Joe Biden.
Watch the video above, via Fox News.