WATCH: Tapper Satirically Tangles With Control Room For Going 'Rogue,' Showing Trump's Hypocrisy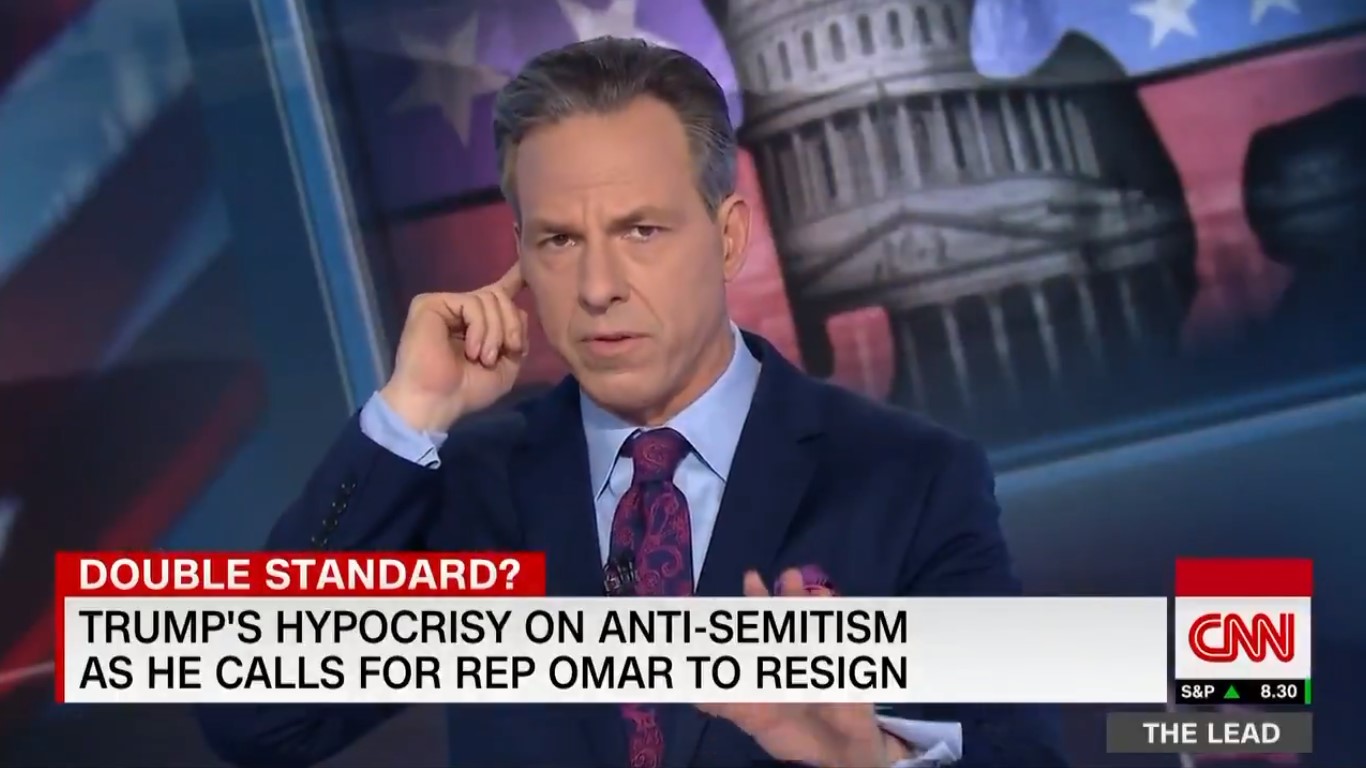 CNN anchor Jake Tapper, along with help from his staffers, did a perfect bit of meta-commentary on Wednesday afternoon's The Lead when he acted as if he were getting increasingly incensed with his control room for airing the wrong graphics. Of course, this was exactly the point, as these video clips and on-screen graphics were telling a story.
With President Donald Trump calling on Democratic Rep. Ilhan Omar's resignation from Congress over an allegedly anti-Semitic tweet that she has since apologized for, Tapper appeared to be doing a basic news segment on the continuing controversy. This resulted in him quoting Omar's offending tweet and seemingly tossing it to to the control room to air an Omar-related graphic.
Instead, we got footage of Trump telling the Republican Jewish Coalition that they were perhaps the best negotiators he's ever been around, pushing a "Jews are hagglers" stereotype. In a Jon Stewart-ish fashion, the host put his finger to his earpiece and asked for the Omar clip.
.@jaketapper shows President Trump's hypocrisy over Democratic Rep. Ilhan Omar's anti-Semitic tweet with a little help from a "rogue" control room. pic.twitter.com/EJc2TJnmrU

— The Lead CNN (@TheLeadCNN) February 13, 2019
This time around, we got the president's "Crooked Hillary" tweet that featured both a Star of David and piles of money. Again, hitting back at his control room, Tapper once again said he wanted the Omar clip, only to get Trump saying there were "good people on both sides" in Charlottesville. After we got white supremacists chanting "Jews will not replace us" and House Minority Leader Kevin McCarthy sending out an anti-Soros tweet, Tapper 'gave up' and went to break.
"We are going to take a quick break," he said in mock disbelief. "We seem to have issues talking about which are offensive and which ones are not."
Beyond the obvious tweak at GOPers and Trump who are sanctimoniously going after Omar and calling for her to be punished, this also seemed to be a bit of a wink-and-nod to a previous story about Tapper reportedly going ballistic at his staff over botched clips. Meanwhile, right after the segment aired, he let the cat out of the bag.
I have the best editorial and technical staff in the tv news, let's put it that way.

— Jake Tapper (@jaketapper) February 13, 2019
Watch the clip above, via CNN.