Tucker Most-Watched In Cable News Tuesday Night, Maddow Leads In Demo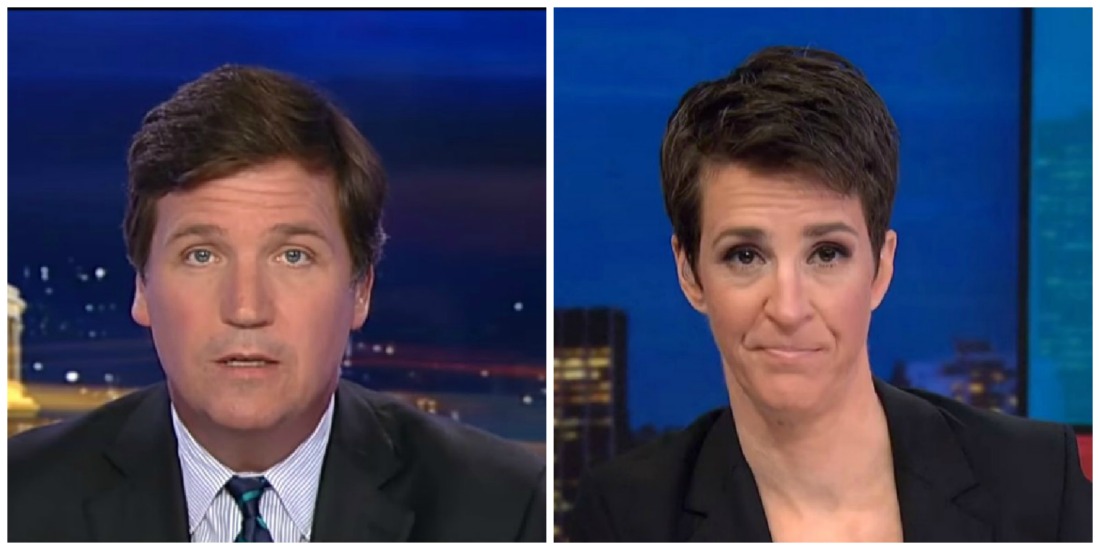 Fox News easily led cable news ratings across the board on Tuesday while boasting the two most-watched shows of the day. MSNBC, meanwhile, boasted the top program in the key 25-54 demographic.
According to Nielsen, Fox News drew 2.764 million viewers overall and 510,000 in the key demo during the 8 PM to 11 PM primetime hours on Tuesday. MSNBC averaged 2.240 million total viewers and 412,000 in the demographic. CNN followed up with a total viewership of 1.051 million and 338,000 in the 25-54 demo.
During the 9 AM to 5 PM daytime slot, Fox pulled in 1.675 million total viewers and 255,000 in the key demo. CNN nabbed a demo audience of 201,000 and 804,000 total viewers. MSNBC attracted 1.183 million viewers overall and 178,000 in the demo.
Tucker took the top spot in total viewership with 2.934 million and finished a close second in the demo (544,000). MSNBC's The Rachel Maddow Show placed first in the demo with 548,000 and finished third overall in total viewers (2.847 million).
Fox's Hannity was second in total audience with 2.891 million viewers while taking third in the demo (522,000). FNC's The Five was fourth in total viewers (2.750 million) and Fox's The Ingraham Angle finished fourth in the demographic (464,000).
The top-rated show on CNN was Anderson Cooper 360, which drew 1.063 million total viewers. CNN's Howard Schultz town hall led the network in the 25-54 metric with 343,000.