Virginia's Attorney General Now Has His Own Blackface Scandal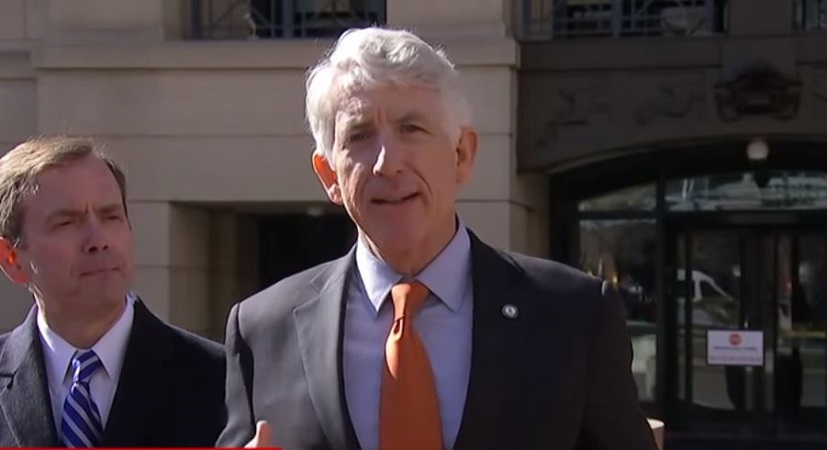 Another day, another blackface scandal for a high Virginia state government official.
Following a meeting with the legislature's black caucus Tuesday morning, attorney general Mark Herring released a statement in which he admitted to having worn blackface to a party at the University of Virginia in 1980.
"In 1980, when I was a 19-year-old undergraduate in college, some friends suggested we attend a party dressed like rappers we listened to at the time, like Kurtis Blow, and perform a song," Herrings said in his statement….[B]ecause of our ignorance and glib attitudes – and because we did not have an appreciation for the experiences and perspectives of others – we dressed up and put on wigs and brown makeup."
The news comes just a few days after the state's governor, Ralph Northam, was discovered to have a photo of a person in blackface and another person in a KKK outfit on his medical school yearbook page, which was printed in 1984. Northam swore he was not either of the men in the photo, but on Saturday, in one of the most cringe-worthy press conferences since Baghdad Bob swore American troops were nowhere near the city as their tanks literally rolled through the frame behind him, the governor admitted that the same year his yearbook was published, he had donned blackface to play Michael Jackson in a singing competition in Texas.
Northam has been resisting calls to resign from prominent state and national Democrats. One of those Democrats was Mark Herring, who is second in line to the governorship behind lieutenant governor Justin Fairfax, who had been preparing to take over the governor's mansion if Northam stepped down. Now that succession plan may be on hold after a woman went public with an accusation that Fairfax sexually assaulted her in 2004. Fairfax has vociferously denied the allegation. On Wednesday he retained the same Washington, D.C. law firm that represented Brett Kavanaugh during his confirmation hearings last fall.
So to tally it up, that's two admissions of wearing blackface and one accusation of sexual assault against the three top government officials in Virginia in a five-day span.
Where to even begin with all this.
One has to assume that, given its history as the cradle of the Confederacy, that there are blackface pictures of prominent citizens, Republican and Democrat, buried like land mines in desk drawers and dusty photo albums across the state, just waiting to be discovered and detonated with a bang that rips open old scabs. Besides Virginia, it seems likely such photos are scattered across the South and likely the entire country.
In fact, late on Wednesday afternoon, a reporter randomly found just one such photo in a forty-year-old University of North Carolina yearbook. You can bet enterprising reporters are digging into the yearbook archives of major universities as we speak.
But this will be cold comfort to Virginia Democrats, whose heads are spinning at the moment. Legislative elections are approaching, and three of the party's most prominent leaders might all be resigning, handing the governor's mansion to the Speaker of the House of Delegates, who is a Republican. And this after Northam fought off a Republican who all but embraced neo-Confederates in the gubernatorial election last year.
It's a mess for the state. And there is no reason to think it is anywhere near over.