Morning Joe: Lindsey Graham Wants To Rewrite The Constitution So Kamala Harris Can Seize Guns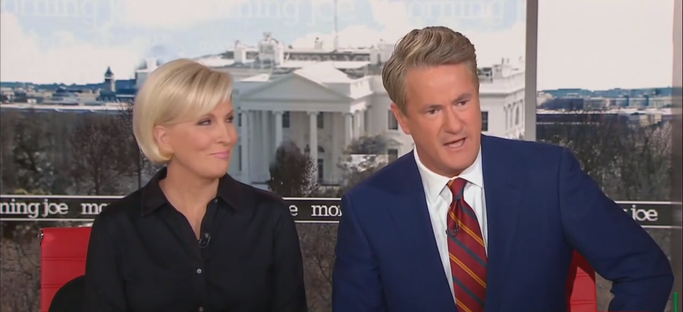 Joe Scarborough issued a warning to Republicans supporting President Donald Trump on Tuesday's Morning Joe. Scarborough discussed a hypothetical situation that might arise from the Republican Party's embrace of presidential power.
The Morning Joe panel was discussing how the modern Republican Party had abandoned the conservative principles Scarborough supported when he ran for Congress in 1994. Former Republican National Committee chairman Michael Steele was in the studio and the two former politicians examined the issue.
"Well, what it speaks to is just how not Donald Trump's dumbing down of the political process but how all those around him are dumbing it down as well, moving away from those values and those principles that you ran on, that I ran on when I ran for the US Senate," Steele said.
Scarborough recalled when arguing against an imperial presidency was an applause line and lamented that many Republicans seemed to have changed their opinions on that issue. Steele said that many Republicans had become disillusioned. Scarborough then pointed to his books and how different his beliefs are to those of the modern GOP.
"I reread them just to see if I was still a conservative," Scarborough joked. "My complaint, though, was not that they needed to find this mushy middle, it was that they were too liberal when it came to spending. They were too liberal when it came to not making tough economic choices. They were too liberal when it came to debts. So if you become disillusioned because your party is too liberal, you actually go to a lifelong Democrat who wants to seize power from Congress?"
Steele and Scarborough had a back and forth about Trump's history of supporting Democratic candidates and Scarborough once again focused on Senator Lindsey Graham. Graham has been a frequent target of criticism for the Morning Joe host.
Steele pointed out that opposition to Democrats and abortion rights, and beliefs in religious freedom, were key to understanding Republican voting preferences.
"Is that why you support a guy that supports Muslim registries? Do you not understand that a liberal may come in and maybe it will be a Pentecostal registry next decade?" Scarborough said.
"Lindsey Graham wants to rewrite the Constitution to give Kamala Harris the ability, as President of the United States, to seize Americans' guns," Scarborough said at the end of the segment. "To seize guns in South Carolina. To start background checks. To do all the things that supposedly Lindsey Graham is against."
Watch the video above, via MSNBC.