Michael Caputo: We Should Be Able To Access Axios Journalists' Emails And Bank Records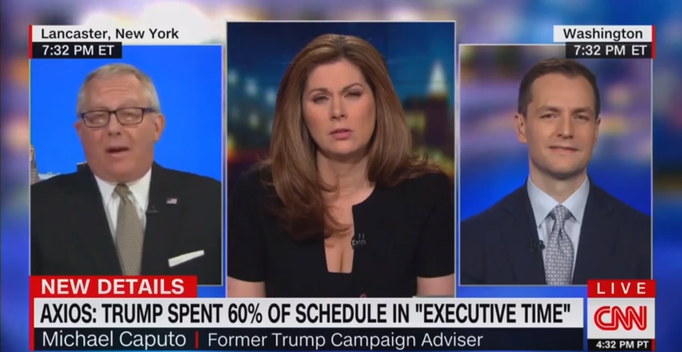 Former Trump campaign aide Michael Caputo suggested that two Axios journalists' private information should be accessed to find out who leaked President Donald Trump's schedule to the news site. Caputo was discussing the recent story about Trump's 'executive time'.
Caputo was speaking on CNN's Erin Burnett Out Front, where his claim about accessing journalists' emails and other records went unchallenged. Caputo seemed to be suggesting that because the Obama administration treated some journalists harshly, it should be possible to see reporters' records to find out who the White House leaker is.
Burnett pointed out that someone in the Trump administration feels it's necessary to stay in the White House and leak information, echoing analysis suggesting that members of Trump's staff strongly disapprove of the President.
"I don't think anybody would believe that it's their duty to violate the law," Caputo said. "This is a federal crime. And, you know, a national security crime. Imagine if this criminal decided it wasn't enough to leak past schedules and leaked future schedules, what kind of trouble could come from that."
"I think that Alexi McCammond and Jonathan Swan at Axios should be treated just like the New York Times' James Risen was in 2010 and James Rosen of Fox in 2013 and the entire AP bureau in 2013 was treated by the Obama administration."
"We should figure out who this was," Caputo said. "Let's go back in Alexi and Jonathan's e-mails two years like Obama did. Let's go through all their phone records. Let's pull their bank records, let's pull their credit reports, let's pull their parents' e-mails like they did to Mr. Rosen and find out who did this. If Barack Obama can do that, let's put Donald Trump's team to work to find out who this criminal leaker is."
Caputo is referring to 2013 investigations into certain reporters, carried out by the Obama administration. While the actions of the Justice Department were heavy handed in theses cases, the Department's justification seems to have gone beyond a leaked schedule from the White House.
Watch the video above, via CNN.