Hannity Begs AOC To Come On His Show After She Burns Him On Twitter: 'I Will Go To Washington'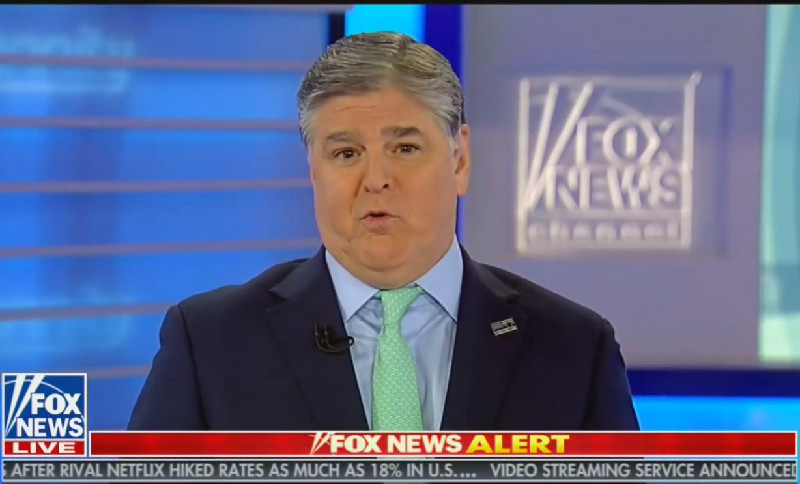 Is there a better publicist for freshman Democratic Congresswoman Alexandria Ocasio-Cortez than Fox News' Sean Hannity?
Even before the 29-year-old progressive superstar won her House seat, Hannity was taking aim at her on a nightly basis and presenting her platform of jobs for all, women's rights, higher education for all and clean campaign finance as a negative. Now that she's in the House, the pro-Trump primetime cable news host has continued to devote an inordinate amount of airtime on portraying AOC as a dangerous anti-American radical, only to see it backfire over and over again.
On Wednesday night, Hannity spent a good chunk of his opening monologue taking on some of AOC's most recent statements and concerns, such as her assertion that we could see the end of the world in 12 years if we don't address climate change and her proposal to raise the marginal tax rate on the ultra-wealthy to 70 percent to help pay for a Green New Deal. While criticizing the progressive lawmaker, Hannity spotlighted a Mediaite story on AOC's policy advisor christening himself "Every Billionaire Is A Policy Failure".
It didn't take long for Ocasio-Cortez to notice.
Tempted to frame this and put it on my desk 😂 pic.twitter.com/EGGIsnpZfZ

— Alexandria Ocasio-Cortez (@AOC) January 24, 2019
"Tempted to frame this and put it on my desk," she tweeted along with a screenshot of Hannity with the headline.
Later on in his program, Hannity pointed out that he could "prove" that the New York congresswoman watches his show. But first, he needed to get to a 'Hannity Exclusive," which was Fox News contributor Lawrence Jones walking the streets of AOC's district and asking what they thought about her.
Following that brief segment and before discussing it with Jones, Hannity showed AOC's tweet and then extended an offer to her to appear on his show.
"Look at that. She took a screen grab of our show and wrote I'm tempted to frame this and put it on my desk," he said. "Now Congresswoman Ocasio-Cortez, I will go to Washington, I will sign as many copies as you want. We'll spend the hour and talk about the issues in a very polite way."
The thirst, it's real.
Watch the clip above, via Fox News.