Ben Shapiro: 'No Pro-Life Person On Earth Would Kill Baby Hitler' Because 'Baby Hitler Was A Baby'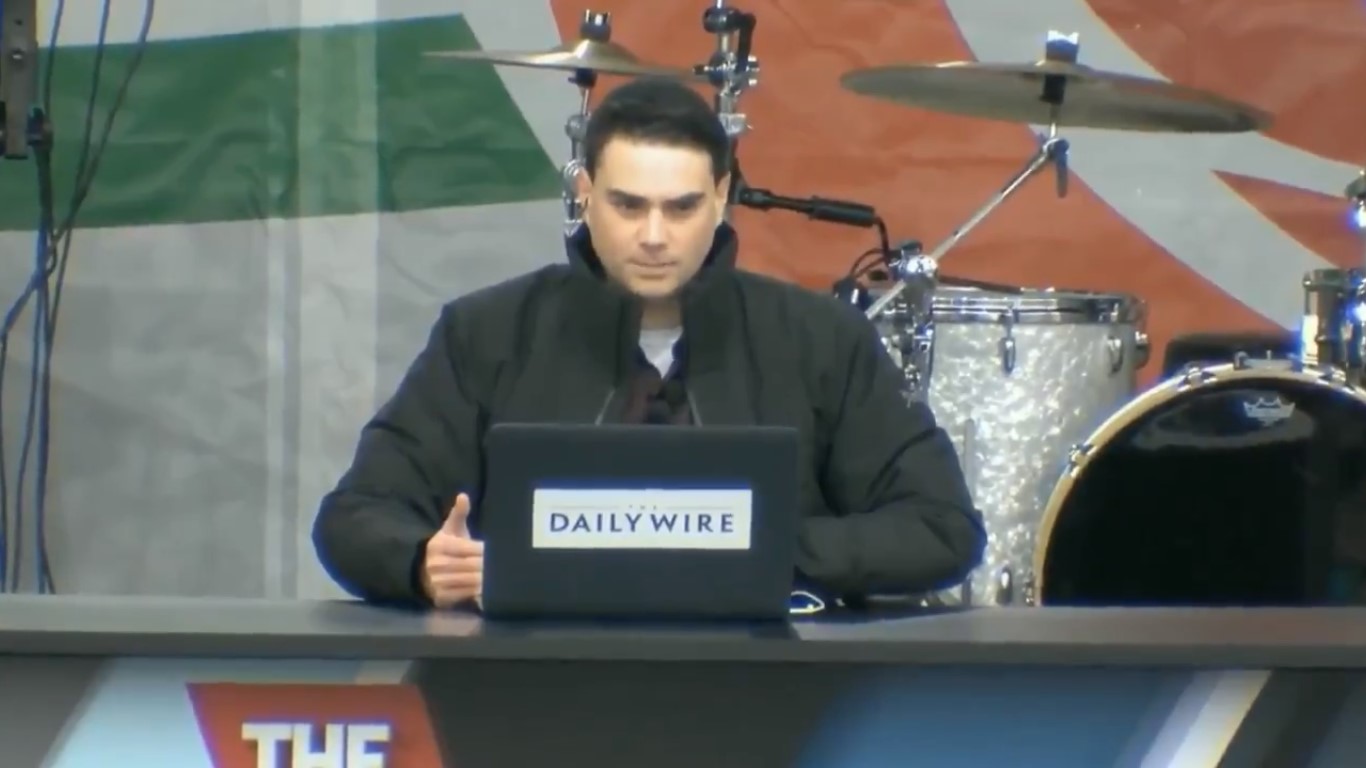 The Cool Kids' Philosopher has once again broken his critics on the Wheel of Logic.
Delivering a speech while simultaneously broadcasting his podcast at today's anti-abortion March for Life in Washington, Daily Wire editor-in-chief Ben Shapiro decided to weigh in on whether pro-lifers would kill Adolf Hitler as a baby if they got the chance. In between reading ads for ZipRecruiter, Shapiro asserted that there wasn't an anti-abortion person alive that would do such a thing.
Ben Shapiro at March for Life: "The truth is no pro-life person would kill baby Hitler. Baby Hitler was a baby." pic.twitter.com/PPgQcbWSrq

— jordan (@JordanUhl) January 18, 2019
"The truth is no pro-life person on earth would kill baby Hitler," Shapiro said while sitting in front of his laptop. "Because baby Hitler wasn't Hitler as an adult. Baby Hitler was a baby!"
He finished his point by saying that one would presumably take baby Hitler out of his house and put him in a better home where he wouldn't grow up to be Hitler.
While Shapiro is claiming there isn't a pro-life person around that would ever slay an infant genocidal white supremacist, former Republican governor and presidential candidate Jeb Bush said unequivocally in November 2015 that he would definitely do the deed.
After Right Wing Watch's Jared Holt first reported on Shapiro's remarks and progressive activist Jordan Uhl posted a video clip to Twitter, the floodgates opened and Shapiro faced an onslaught of ridicule.
"Even sweet baby Hitler would understand why Trayvon Martin had to die" by Ben Shapiro

— Federalist PitchBot (@FederalistPitch) January 18, 2019
the Ben Shapiro headline from this would be Ben Shapiro Defends Hitler https://t.co/WmLOIZEHdd

— Jonathan Chait (@jonathanchait) January 18, 2019
how does a person become like this

— b-boy bouiebaisse (@jbouie) January 18, 2019
Ben Shapiro, Intellectual Gladiator, Socrates to the Better Angels of Conservatism, summoning more umbrage and compassion for hypothetical Baby Hitler than he could ever manage on behalf of any actual black child ever murdered by a cop

— Patrick Blanchfield (@PatBlanchfield) January 18, 2019
Ben Shapiro loves to cuddle and nuzzle wittle baby hitler he loves to tickle him in his round little belly and change his poopy hitler diapers https://t.co/5oYNomQtVs

— luke o'neil (@lukeoneil47) January 18, 2019
Meanwhile, shortly after Shapiro's comments attracted widespread mockery online, the Daily Wire pulled the video from YouTube.
Daily Wire removed the video/stream from YouTubehttps://t.co/X4DTewYBrK

— jordan (@JordanUhl) January 18, 2019