Laura Ingraham: Ruth Bader Ginsburg's Groupie Snowflakes Will Be 'Melting All Over' When She Dies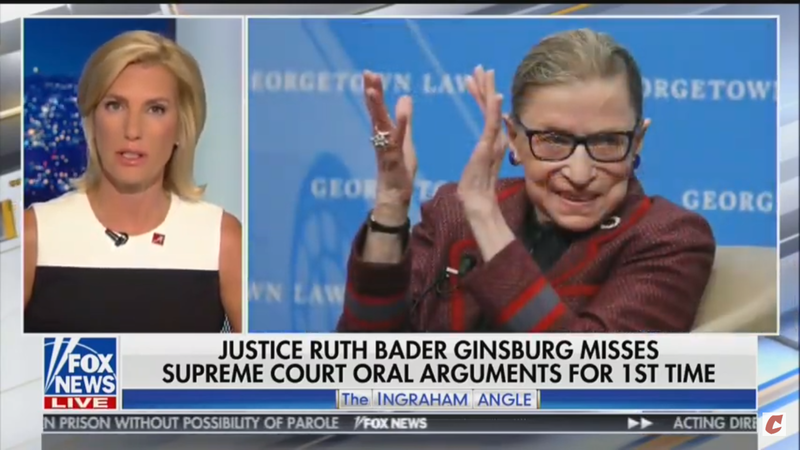 Fox New's Laura Ingraham imagined the death of Supreme Court Justice Ruth Bader Ginsburg on Monday night. Speaking on her show, The Ingraham Angle, Ingraham came close to wishing for the judge's death because of the upset it would cause liberals.
Ingraham was discussing the fact that Ginsburg had missed Supreme Court oral arguments for the first time since she was appointed. The 85-year-old has had health problems recently, but has proven robust and usually returns to work shortly after any illness.
"When word broke today that Supreme Court Justice Ruth Bader Ginsburg did not show up for her first oral arguments of the new year, liberals freaked out and conservatives wondered," Ingraham said. "While her health condition is not unserious, she hasn't missed an oral argument in 25 years on the bench. And the activist left has spent the better part of the last two years lionizing Ruth Bader Ginsburg.. She's a very colorful person."
Ingraham then showed a clip from the new movie, On the Basis Of Sex, which is based on the life of Ruth Bader Ginsburg.
"Part of the reason they love Ginsburg so much isn't just because she's a reliable liberal on the bench. It's because she's been willing to speak out against President Trump," Ingraham said. Her claim comes despite Ginsburg's long-term status as a liberal icon, predating the Trump administration.
"OK, if you think that Kavanaugh confirmation fight was brutal and of course it was, imagine how the Democrats are going to deal with Trump's next nominee — whenever that is," Ingraham said. "We hope Ruth Bader Ginsburg is OK and we hope she's doing well. But that would actually change the balance of the court when she steps down. So the RBG groupie snowflakes will be melting all over."
Watch the video above, via Fox News.