House Republicans Groan After Ocasio-Cortez Votes For Nancy Pelosi Because Of Course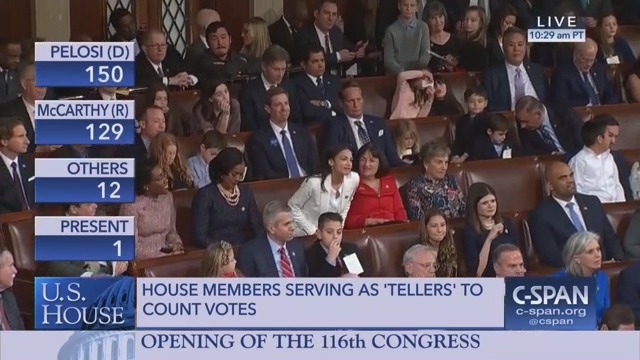 As expected, Nancy Pelosi was elected Speaker of the House when the new 116th United States Congress was sworn in on Thursday. And though it was already known going in that a prominent freshman member planned to vote for the Democratic leader, it still caused audible groans from those on the right when she called out Pelosi during the floor vote.
Since she became a progressive superstar following her shocking defeat of Rep. Joe Crowley in the Democratic primary last summer, conservatives and Republicans have been absolutely obsessed with Alexandria Ocasio-Cortez. Nary a day has gone by in the past few months when right-wing media hasn't generated some level of outrage-bait over AOC, ranging from claims that she misrepresented her working-class background to finger-pointing over minor gaffes to creepshots of her behind while she walks away.
And that hasn't slowed down as she approached her swearing-in. Just in the past 24 hours, the 29-year-old Democratic Socialist has been the target of a couple of brain-dead hit pieces. There was Jim 'The Dumbest Man on the Internet' Hoft's "Exclusive" about AOC's high school nickname. And there was the video of a young Ocasio-Cortez dancing in college. Both of these attempts to own the congresswoman were met with widespread mockery, as many of the right's efforts have been over the past six months.
What about this video is remotely harmful to @AOC? She looks like she is having fun dancing to me. https://t.co/YgihLXUSg7

— Renato Mariotti (@renato_mariotti) January 3, 2019
in last 24 hours, conservative internet has obsessed itself over HS pictures from Ocasio-Cortez's yearbook and a benign video of her dancing in college. (and if you check the comments on the YouTube video of her dancing, you can see the sexist drivel this focus has unleashed) https://t.co/LS6nfmL2Lh

— Steadman (@AsteadWesley) January 3, 2019
Imagine how twisted your view of politics, America, or even reality must be to think that dancing video of @aoc is going to make her anything other than even more likable and relatable.

— John Iadarola (@johniadarola) January 3, 2019
Now she's totally done for. Newly unearthed video reveals that when @AOC was in college, she was … adorable. https://t.co/EkqXTrQSAo

— Karen Tumulty (@ktumulty) January 3, 2019
So with that all established, it was unsurprising that House Republicans, many of whom subsist on a daily diet of Fox News, The Daily Caller and Breitbart, just couldn't help themselves when Ocasio-Cortez offered up her vote today. While a few of them audibly groaned when she said Pelosi's name, other Democrats laughed and cheered.
Journalist Soledad O'Brien noted after the vote that Ocasio-Cortez's "very existence" gives Republicans "agita."
@AOC is killing Republicans. Just her very existence is goliving them agita. https://t.co/G6i2ZfLAmr

— Soledad O'Brien (@soledadobrien) January 3, 2019
Watch the clip above, via C-SPAN.