Is Mitt Romney Preparing To Challenge Donald Trump In The Primaries?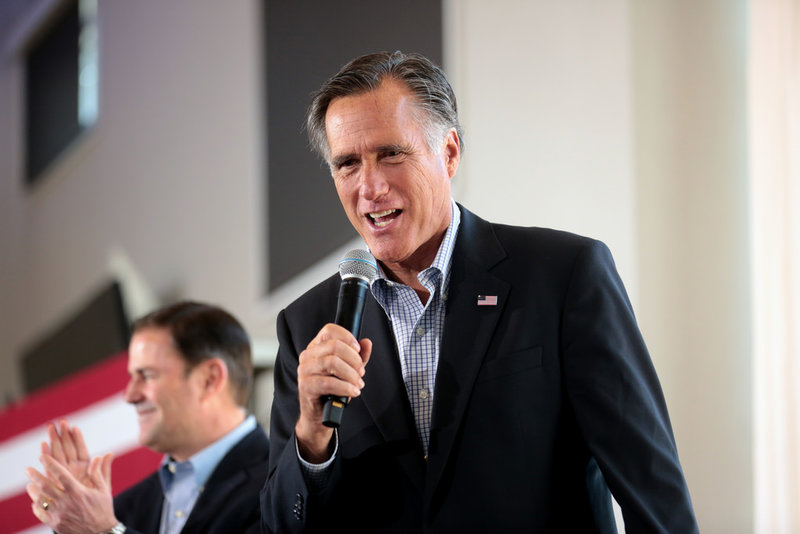 Incoming Utah Senator Mitt Romney will take his seat on Thursday, but he's already making waves with an op-ed in the Washington Post blasting Trump for his lack of character. For a newly elected senator to launch this kind of attack on a president from his own party is unprecedented.
"The appointment of senior persons of lesser experience, the abandonment of allies who fight beside us, and the president's thoughtless claim that America has long been a 'sucker' in world affairs all defined his presidency down," Romney wrote in a column published Tuesday night.
"On balance, his conduct over the past two years, particularly his actions this month, is evidence that the president has not risen to the mantle of the office," Romey said, in a strong rebuke that could be seen as out of character for the former Massachusetts governor.
"To a great degree, a presidency shapes the public character of the nation," Romney said. "A president should unite us and inspire us to follow 'our better angels'. A president should demonstrate the essential qualities of honesty and integrity, and elevate the national discourse with comity and mutual respect. As a nation, we have been blessed with presidents who have called on the greatness of the American spirit."
Romney's strong language will fuel speculation that he is considering challenging Trump for the Republican nomination in 2020. There was already some talk about this possibility, with some moderate conservatives openly suggesting this option.
"With the nation so divided, resentful and angry, presidential leadership in qualities of character is indispensable. And it is in this province where the incumbent's shortfall has been most glaring," Romney's op-ed said.
Romney could be trying to point to his own qualities. He was a relatively successful governor of a liberal state and is widely considered a safe pair of hands. However, when he ran against President Barack Obama in 2012, he was strongly criticized for changing his political positions to suit more conservative GOP voters.
A primary challenge to Trump is not completely impossible, although it would be extremely difficult. Some Republicans believe dumping Trump may be the only way save the party from electoral disaster.