Alan Dershowitz Uses TV Appearance To Whine That He's Not Getting Booked On TV Enough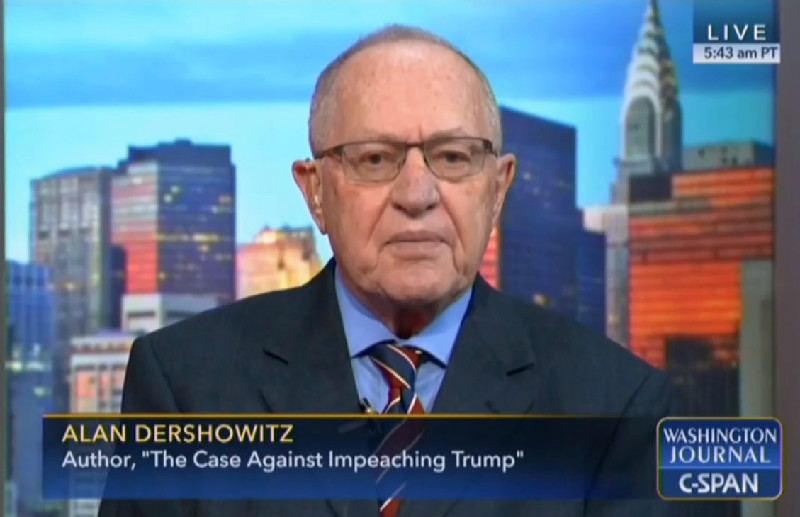 Earlier this year, Harvard law professor emeritus Alan Dershowitz had an entire news cycle devoted to his complaints that he was being shunned by the Martha's Vineyard cocktail party crowd over his criticism of the Mueller investigation and defense of President Trump.
Now, Dersh is lamenting his lack of television time on non-Fox News networks, accusing CNN of not booking him since the summer over the belief that he is "pro-Trump."
Appearing on C-SPAN's Washington Journal on Wednesday — yes, he used a TV interview to complain that he's not on TV enough — Dershowitz bemoaned the partisan state of news media today and noted that cable news falls into two categories.
"It is a tragedy that the media have become so divided," Dershowitz said. "Today, there are Trump channels and anti-Trump channels. You want the anti-Trump news, you turn to CNN and CNBC. You want to get the pro-Trump news, you turn to Fox."
Pretty sure he meant MSNBC there, but you get the gist. After going on a tangent about how there are no Walter Cronkites on the air anymore and how there is too much analysis in news coverage, the famed lawyer then complained that his legal analysis isn't being featured on more TV channels.
"More and more I'm getting called on only by people who misunderstand and think I'm pro-Trump. I'm not pro-Trump, but it's been harder for me to get on anti-Trump networks — not that I'm craving to be on television all the time," the frequent Fox News guest declared.
"I have a good life, but it has had an impact on which channels seek my services more often, and that's changed," Dershowitz stated. "I used to be, for example, on CNN more often than on Fox. I was a regular, not paid, but just a person who was on all the time debating with [CNN legal analyst Jeffrey] Toobin, debating with others."
He concluded, "I haven't been on CNN, now, since the summer, and Fox calls me all the time. I'd love to be available to people who watch all channels and I try to write op-eds widely for different newspapers and different media."
Folks, let's pour one out for Alan Dershowitz, as he's showing us all that the struggle is indeed real. Not only has he had to endure the Great Martha's Vineyard Shunning of 2018, but he also has to suffer through the humiliation of not appearing regularly on a couple of cable news channels. Meanwhile, people will just have to do their best to catch him during his Sunday news show appearances, countless Fox News spots (where he won't get asked about Jeffrey Epstein), or the numerous op-eds he gets published in mainstream outlets.
Watch the clip above, via C-SPAN.