Amid Advertiser Boycott, Tucker Carlson Finishes Last In Demo On Tuesday Night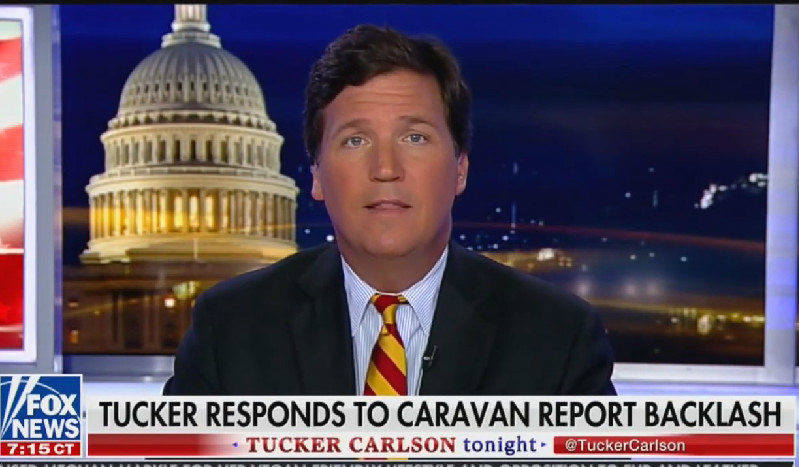 With Fox News' Tucker Carlson facing an intense advertiser backlash for saying immigration makes America "poorer and dirtier" on his show last week, Tuesday night's ratings cannot be welcome news for the conservative commentator.
According to Nielsen, Tucker Carlson Tonight drew a total audience of 2.383 million and 381,000 in the key 25-54 demographic. While the show topped its 8 PM time slot in total viewership and was Fox News' most-watched program of the day, it finished last in the demo. In comparison, MSNBC's All In with Chris Hayes pulled in 421,000 in the demo (along with a higher-than-normal 2.262 million total viewers) and Anderson Cooper 360 grabbed 408,000.
The numbers are well below what Tucker has done for the year as he averaged 2.827 million viewers overall and finished third in the key demo with 557,000. On Tuesday, Carlson finished behind every single CNN and MSNBC primetime program in the demographic.
Fox News, which was without regular host Sean Hannity at 9 PM as Jeanine Pirro filled in, was last in cable news in the primetime demo (326,000) and finished a distant second to MSNBC in total viewership (2.154 million). MSNBC, meanwhile, delivered 534,000 in the key demo and 2.784 million viewers overall.
MSNBC's The Rachel Maddow Show was the most-watched cable news program of the day, drawing 3.444 million total viewers and 716,000 in the demo.
Following his highly criticized immigration remarks on Thursday night, Tucker Carlson has lost at least 19 advertisers and progressive activists and groups have continued to contact the show's sponsors. The floodgates really opened up after Tucker doubled down on his anti-immigrant rhetoric Monday night and said that he wouldn't be "intimidated." Fox News, meanwhile, has expressed support for Carlson while lashing out at "left wing advocacy groups" that are trying to "stifle free speech."