Dueling Chants Of 'Lock Him Up!' And 'USA!' Greet Michael Flynn As He Exits Courthouse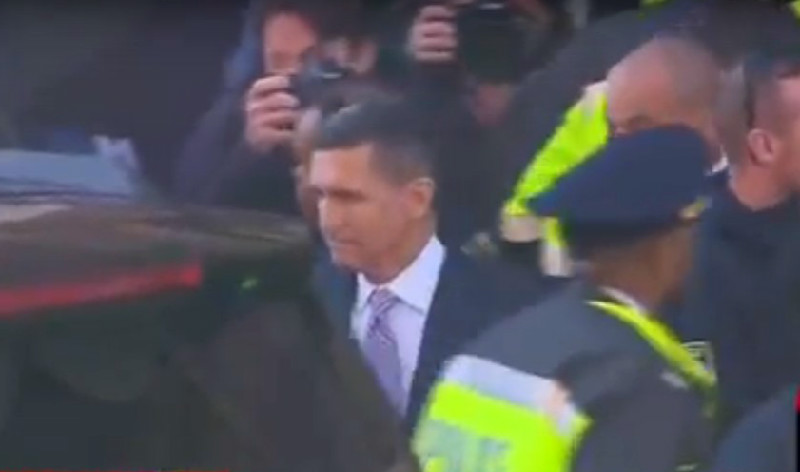 Following a wild sentencing hearing which featured Judge Emmet Sullivan telling former National Security Adviser Michael Flynn that he arguably sold his country out before delaying Flynn's sentencing to allow him additional time to cooperate with special prosecutors, Flynn exited the courthouse to dueling chants from opposing groups.
As Flynn and his lawyers made their way to a waiting SUV, a pro-Flynn contingent shouted "USA! USA! USA!" Meanwhile, a separate group of #Resistance folks did a bit of a call-and-response, chanting "Lock him up," an obvious reference to Flynn directing a loud "Lock her up!" chant at Hillary Clinton during the 2016 Republican National Convention.
Flynn did not react as he and his entourage quickly jumped into their vehicle before driving off.
Going into Tuesday's hearing, federal prosecutors had recommended a lenient sentence, stating Flynn had provided substantial assistance to the Mueller investigation following Flynn pleading guilty to lying to the FBI. Flynn's lawyers had also issued a sentencing memo prior to the hearing that suggested FBI agents had entrapped him. Judge Sullivan, however, got Flynn and his lawyers to state that they were not challenging the FBI's conduct during their interviews with Flynn.
The judge further scolded Flynn over the seriousness of his crime while also bringing up Monday's unsealed indictment against former Flynn business partner Bijan Kian. Kian has been indicted for violating foreign lobbying laws and working to together with Flynn, referred to as "Person A" in the indictment, on a campaign with the Turkish government to extradite a cleric living in the United States.
Sullivan, noting that Flynn could be charged as well if it were not for his plea deal, told the retired general that his crimes were a "very serious offense" and "you sold your country out," hinting strongly that he was willing to give Flynn jail time despite the prosecution's recommendation.
Watch the clip above, via CNN.