Jeffrey Toobin Calls Out Rick Santorum's Moral Hypocrisy: 'Making Excuses For Paying Off Porn Stars'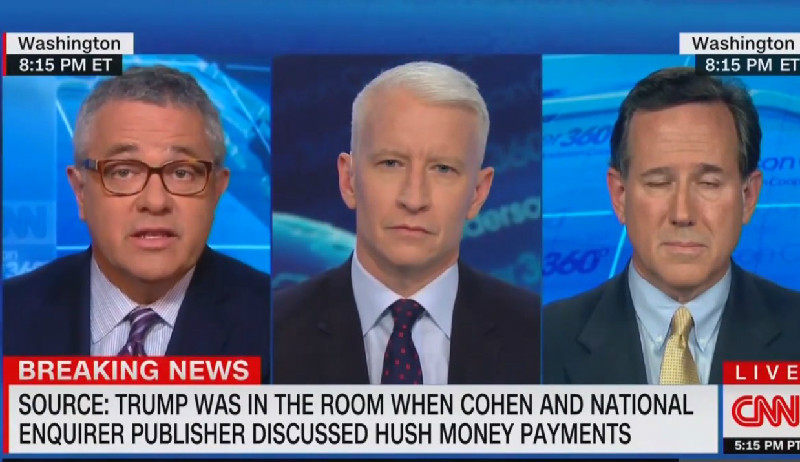 Hello, 911. I'd like to report a hilarious murder.
During a CNN panel debate discussing the breaking news that then-candidate Donald Trump was present at a 2015 meeting with lawyer Michael Cohen and National Enquirer published David Pecker about hush payments to women alleging affairs with Trump, CNN legal analyst Jeffrey Toobin called out colleague Rick Santorum's hypocrisy when it came to defending Trump's behavior.
See, before Santorum was a Trump-boosting CNN pundit, he was a religiously conservative Pennsylvania senator who was known for moralizing about sexual behavior and fiercely opposing same-sex marriage and abortion. After losing his Senate seat, Santorum ran a couple of ultimately unsuccessful presidential bids that largely centered on his social conservatism.
After Santorum talked about whether Trump broke campaign finance law with the hush payments made to adult film star Stormy Daniels and former Playboy Playmate Karen McDougal, Toobin took Santorum to task for making a political career off of morality while now defending the president's affairs.
"Putting aside the whole issue of how amazing it is to listen to Rick Santorum who made his entire career — successful for a time — on the basis of morality in politics, making excuses for paying off porn stars and women with whom you've had affairs," Toobin said, causing Santorum to interrupt him.
"Jeffrey, you're not gonna put that to the side!" Santorum exclaimed. "I'm not making excuses for Donald Trump having an affair with a porn star. I mean, that's disgusting, it's tawdry. I'm addressing the question as to what is the illegality involved here, and the illegality is not the contribution. The illegality is not reporting it. I'm not condoning it. And don't suggest that I am."
Too late to wriggle out of that, my man. Toobin merely said out loud what everyone had been thinking for some time now.
Meanwhile, one of Santorum's CNN colleagues reveled in Toobin nailing Santorum on his moral hypocrisy.
Oh snap! @JeffreyToobin on "how amazing it is to listen to @RickSantorum, who made his entire career…on the basis of morality in politics, making excuses for paying off porn stars and women with whom you've had affairs." pic.twitter.com/L30lzoDu6f

— Josh Campbell (@joshscampbell) December 14, 2018
Watch the clip above, via CNN.