Maddow Beats Hannity Thursday Night, Leads Primetime Cable TV In Total Viewership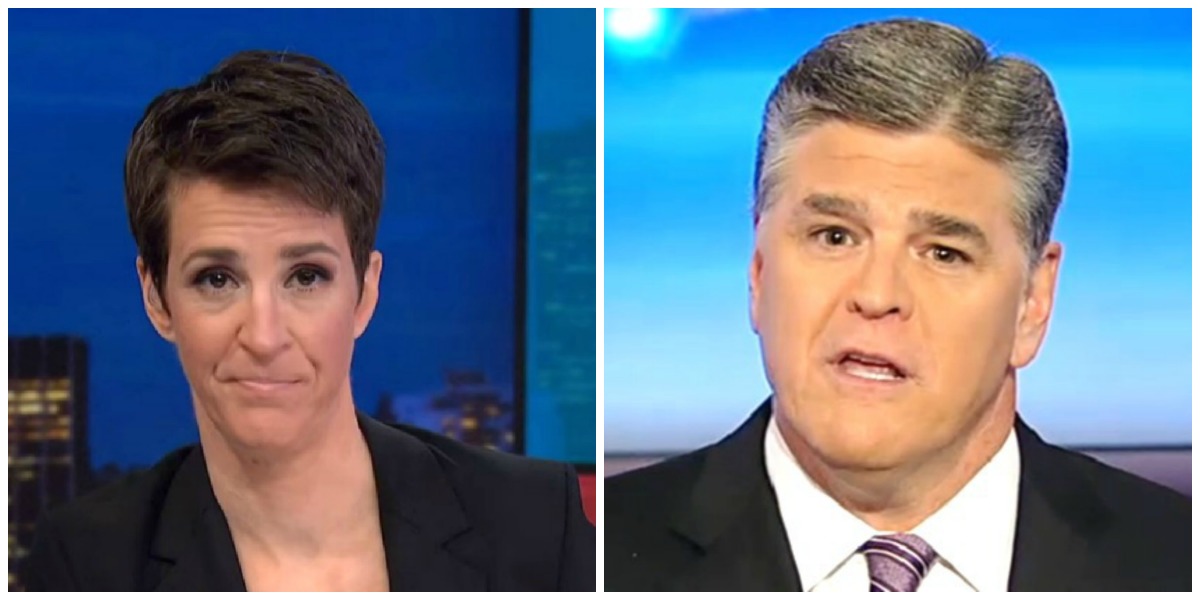 On Thursday night, MSNBC's The Rachel Maddow Show continued its winning streak against Fox News rival Hannity, beating the conservative cable news program across the board head-to-head while leading primetime cable television in total viewership.
According to Nielsen, Maddow drew a total audience of 3.132 million and 568,000 in the key 25-54 demographic, topping cable news in the latter category. Hannity, meanwhile, pulled in a 2.883 million total viewers and 443,000 in the demo, placing third in both metrics.
In the 8 PM to 11 PM primetime hours, Fox News led the way in both the demo (437,000) and total audience (2.657 million). MSNBC followed closely behind with 2.506 million viewers overall and 426,000 in the 25-54 metric. CNN pulled in 1.158 million total viewers and 312,000 in the demographic.
In the daytime 9 AM to 5 PM slot, which was largely focused on President George H.W. Bush's Texas funeral, Fox averaged 2.038 million total viewers and 282,000 in the key demo. CNN drew a demo audience of 255,000 and 1.333 million in the demographic. MSNBC attracted 1.168 million viewers overall and 161,000 in the demographic.
Fox News' The Five, which featured live coverage of the casket arrival and burial at the Bush Presidential Library, led in cable news total viewership with 3.337 million. Fox's Tucker Carlson Tonight placed second in the key demo (476,000) and fourth in total viewers (2.613 million).
The top-rated program on CNN was the 5 PM hour of the Situation Room, which also provided live coverage from the burial site. The hour drew 1.700 million viewers overall and 343,000 in the demo.