Joy Behar Calls Meghan McCain An 'Entitled Bitch,' Threatens To Quit After On-Air Spat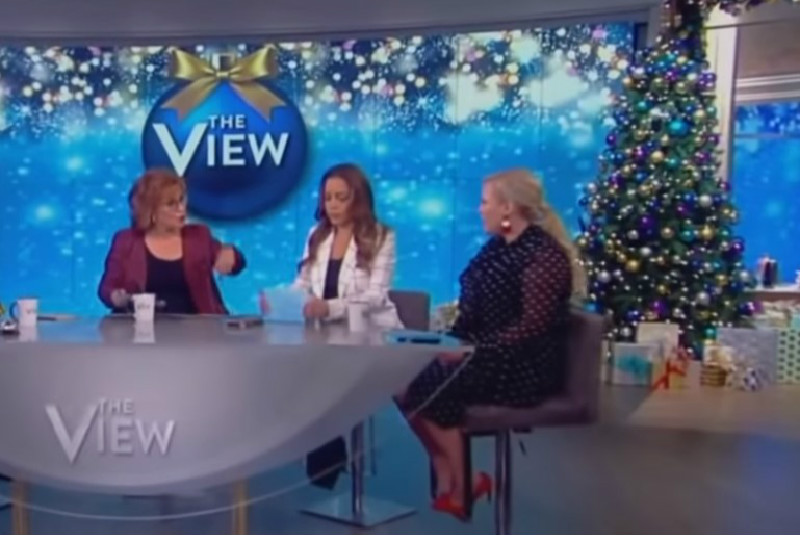 At the end of a segment meant to honor late president George H.W. Bush, The View hosts Joy Behar and Meghan McCain got into a heated and personal clash that caused colleague Whoopi Goldberg to jump in and quickly throw to commercial as the two continued to snipe at each other. According to a report by The Daily Mail, tensions were so high that Behar threatened to quit during the break while telling producers to get "this bitch under control."
In case you missed it, McCain interjected when Behar brought up President Donald Trump as she commended Bush for his environmental record and passing the Clean Air Act, telling Behar to focus on Bush because she didn't "want to talk about Trump." As Behar shot back, McCain sneered that she wasn't "interested in your one-issue voting."
"I don't care what you're interested in! I'm talking!" Behar shouted, resulting in McCain to snap back that she didn't care what Behar was "interested in either."
As Goldberg quickly tossed to break, Behar could be seen slamming down her cue cards as she shouted and pointed to McCain. Producers had cut off Behar's microphone at that point so she couldn't be heard on air.
Per the Daily Mail, as producers rushed to the stage to handle the situation during the two-minute commercial break, Behar unleashed on McCain while threatening to walk off the show.
"If this shit doesn't stop I'm quitting this damn show," Behar huffed. "I can't take this much more."
She continued while still on stage, "I've tolerated a lot of shit on this show but I'm at my wits' end with this entitled bitch. Enough already! Enough already! I'm not playing nice any longer."
The Mail also reported that McCain was red after the on-air clash and wondered aloud why Behar was upset because all she wanted her to do was focus on Bush "and not bring Trump into this for once." Meanwhile, the Mail's source said that producers were frantic during the break as tried to calm Behar down, prevent her from walking out, and get everyone ready for when they returned from commercial.
McCain joined The View in October 2017 after spending two years as a Fox News contributor. Behar recently celebrated her 20th anniversary with the show.