Hannity Blasts 'Transparently Phony' Media For Saying 'Nice Things' About Bush After He Died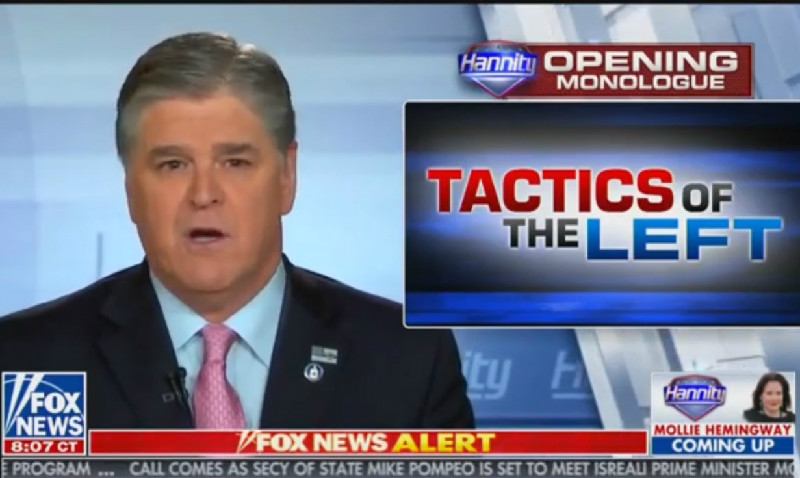 As one would expect in the immediate aftermath after a former president's death, the mainstream media coverage following George H.W. Bush's passing has largely focused on his accomplishments and has been overwhelmingly complimentary and laudatory.
Apparently, this is rubbing Sean Hannity the wrong way.
During the opening monologue of his Fox News program Monday night, Hannity asserted that Bush 41 had been the recipient of overwhelmingly negative coverage during his lifetime. Therefore, in Hannity's opinion, the media to speaking highly of the former commander-in-chief and World War II veteran was nothing but rank hypocrisy.
"Most of the mainstream media, they will do a 180 after they excoriated him when he was running for president and treated him horribly," Hannity huffed. "Seemingly forgetting about the nasty coverage — a pattern to destroy people's names, their character, when they are alive and then create a veneer of bipartisanship. And then we'll say nice things about somebody when the person dies."
"It's transparently phony and we have video evidence," he added before tossing to a video montage of a number of reporters and hosts paying tribute to Bush, including MSNBC's Stephanie Ruhle wiping away tears.
Two things stand out here. One, all of the media personalities Hannity targeted for disingenuously saying "nice things" about a deceased Republican president are women. Two, he didn't include examples of those journalists unfairly bashing President Bush when he was alive.
Following his clip, the White House shadow chief of staff then explained one of the reasons he felt the press was praising Bush — so they could use Bush to "bludgeon" President Trump.
If anyone thought Hannity would perhaps take a day off of blasting the Destroy Trump Media following Bush's death, you obviously don't watch his show on a regular basis.
Watch the clip above, via Fox News.