History Suggests Trump May Give A Eulogy At George H.W. Bush's Funeral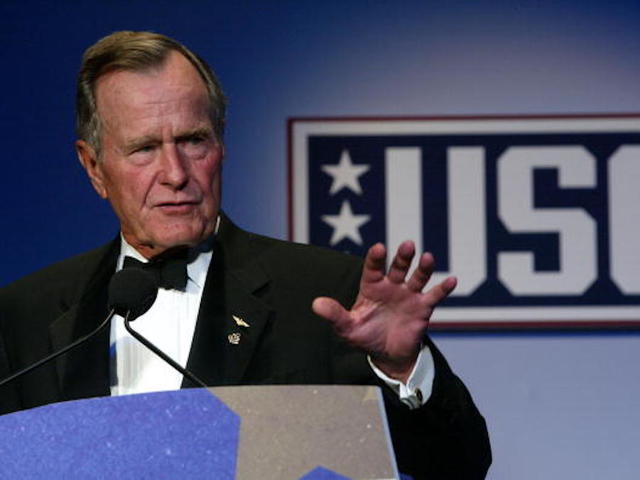 It didn't take long following the death of former President George H.W. Bush for questions to surface about President Donald Trump attending his funeral. While funeral arrangements have not been announced, it is well-known that the Bush family has been critical of Trump, while Trump has criticized them.
The former president may have a state funeral. This is normal procedure for a deceased president and it is likely that his family will want one. This creates a potentially tricky situation: sitting presidents almost always attend the funerals of their predecessors.
The last former president to die was Gerald Ford. At Ford's state funeral, then President George W. Bush delivered a eulogy at the National Cathedral. Bush also gave a eulogy at Ronald Reagan's state funeral in 2004. As such, there is a well-established tradition of serving presidents eulogizing their predecessors.
However, there is no hard and fast rule about this. When Senator John McCain died, Trump was specifically asked to stay away from the funeral. McCain was never president, however,and the Trump administration may think that if the President does not deliver a eulogy, it will be seen as a snub by the Bush family.
There are concerns about Trump's ability to deliver an appropriate speech. He frequently ad libs and goes off topic in public statements. Following McCain's death, Trump was criticized for not showing proper respect by cancelling a planned rally and later criticized McCain without naming him.
The Trump administration seems to be treading carefully at the moment. Trump's account tweeted a measured message this morning, which many Twitter users believed was not Trump's own words.
"President George H.W. Bush led a long, successful and beautiful life. Whenever I was with him I saw his absolute joy for life and true pride in his family. His accomplishments were great from beginning to end. He was a truly wonderful man and will be missed by all!" Trump's tweet said.