Right-Wing Radio Host Believes 'The Left Stole The Election,' Cites Murphy Brown's Cancellation As Proof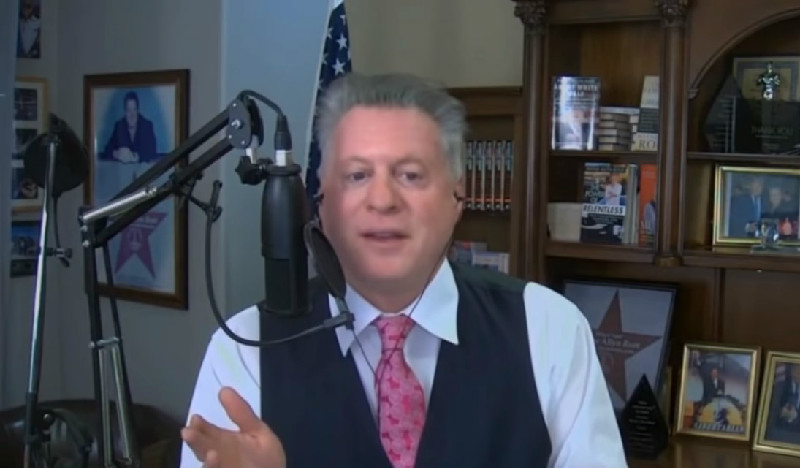 The conservative mediasphere is currently full of third-tier, loudmouthed, sycophantic, conspiracists going out of their way to prove to right-wing audiences that they are the most MAGA of them all. One of the standouts among this glut of grifters is Trump cosplayer and radio host Wayne Allyn Root.
During his radio program, which also airs on conservative network Newsmax TV, Root echoed his hero by insisting that the Democrats only won the House during the midterms because the cheated. His proof? The reboot of Murphy Brown wasn't picked up for a second season.
"I continue to believe that the left stole the election," he bellowed. "The left stole the 2018 midterm elections in so many states around the country."
He went on to use the fact that a Canadian speech by Hillary and Bill Clinton wasn't sold out to make his case that Democrats are just not popular enough across the country to win elections, all while citing Donald Trump's rallies to assert that the country is extremely conservative.
"Nobody comes out to see the Clintons, the Obamas, the Bidens, or any Democratic candidate, yet you're convincing me that you beat us and won all those House seats fair and square?!" Root exclaimed. "At the same time that's happening, anti-Trump Murphy Brown's new series was canceled after one season."
Root brought up Roseanne Barr and complained about his phone's Siri — yes, really — before bloviating a bit more about how it doesn't make sense that "liberals are winning elections when nobody shows up at their events and nobody watches their TV shows."
"I believe that it was a huge outpouring of love, and support, and loyalty to Donald Trump and it was repelled by voter fraud," he concluded. "It wasn't repelled by liberals coming out to vote, it was repelled by conniving, fraudulent conspiracy. It was repelled by voter fraud all over this country."
Watch the clip above, via Right Wing Watch.