Jimmy Kimmel Blasts Trump Over California Fire Response: 'He Didn't Even Throw Us A Roll Of Paper Towels'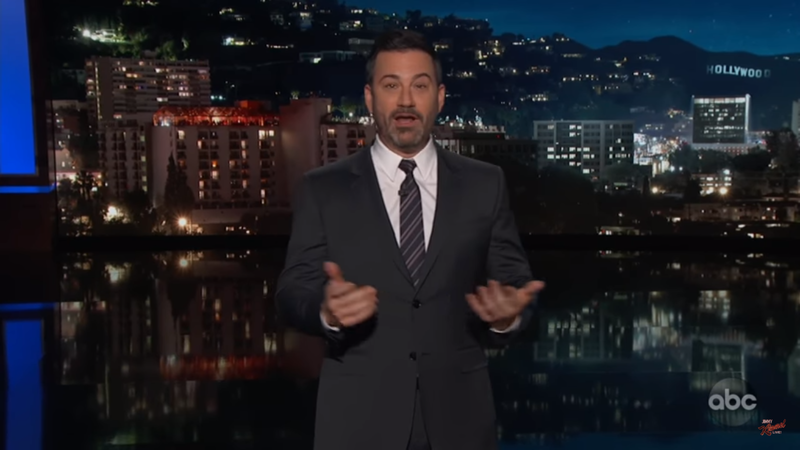 Jimmy Kimmel was not impressed by President Donald Trump's response to wildfires in California last night. The late night host blasted Trump for his insensitive response to fires, which have taken lives and destroyed homes. Trump's tweet about the fires has been roundly criticized.
Kimmel expressed his 'gratitude for the men and women who risk their lives to fight these fires' and who do their job bravely. He also asked his viewers to make a donation to the Red Cross, which has been working hard to help those affected. Then he took aim at the President.
"We probably shouldn't expect much help from the White House," Kimmel said. "You know, as the fires raged, in the middle of all this, the president weighed in with this touching message of support."
Trump's tweet had said: "There is no reason for these massive, deadly and costly forest fires in California except that forest management is so poor. Billions of dollars are given each year, with so many lives lost, all because of gross mismanagement of the forests. Remedy now, or no more Fed payments!"
"He didn't even throw us a roll of paper towels like he did in Puerto Rico," Kimmel said, following boos from the audience.
"And of course everything about this tweet was wrong," Kimmel said. "The federal government manages most of the forest land, not the state. He's the one who cut the funding. California actually pays more money to the federal government than it gets back. And of course, he does nothing about climate change, which is why these fires happen. But why get tangled up in facts when you can take shots at people who voted for Hillary instead of you?"
"Donald Trump was the only guy who went to Backdraft and rooted for the backdraft," Kimmel said. "I understand that California probably isn't the president's favorite state, but he can at least pretend to care about us, like he does with Donald Jr."