Kellyanne Conway On Acosta Video Sarah Sanders Shared: It's 'Not Altered,' It's 'Sped Up'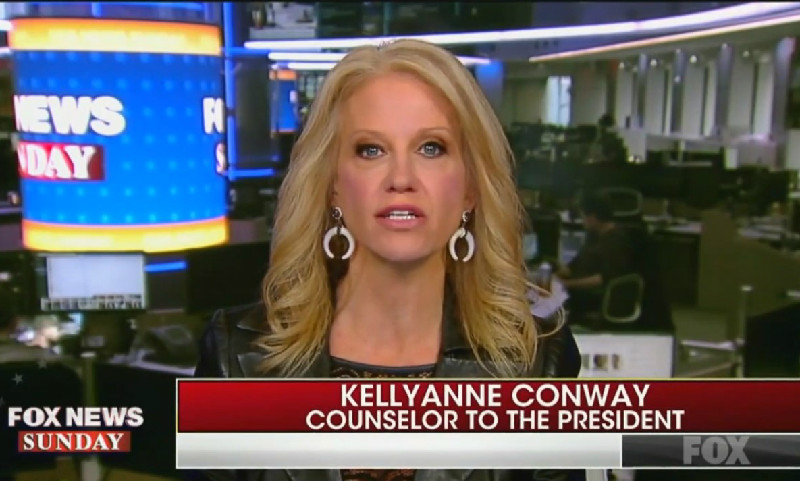 The mendacity of White House counselor Kaellyanne Conway knows no bounds.
During an appearance on Fox News Sunday this morning, the Trump adviser was asked about the manipulated and misleading video that White House Press Secretary Sarah Huckabee Sanders shared last week to justify the administration's decision to pull CNN correspondent Jim Acosta hard pass. That clip was not only clearly edited in a way to dramatize the interaction between Acosta and a White House intern who tried to take away the microphone from him during Wednesday's press conference, it also came from conspiracy-mongering outlet InfoWars.
Host Chris Wallace asked Conway to respond to Sanders sharing the clip that "was clearly altered to make it look like it was more of a physical confrontation than it really was," adding that he's been "very critical" of Acosta and thought his behavior was "inappropriate."
"First of all, what you mean by edited, or as others are saying, doctored video?" Conway responded. "He either put his hands on her or grabbed the mic back or he did not."
Wallace noted that Acosta "clearly" put his hands on the intern but "the video was altered" and experts show that the altercation was made to look faster than it originally was.
"That's not altered, that's sped up," the veteran pollster said. "They do it all the time in sports to see if there's a first down or a touchdown. I have to disagree with I think the overwrought description of this video being doctored."
What football game is Conway watching in which the broadcast speeds up the film to show if a touchdown was scored? And, yes, that does mean that it was "altered" if the interaction was shown in a series of tightened close-ups with the brief contact of the two arms sped up to create the impression that the action was more violent and aggressive than in reality.
Conway went on to say that Acosta owed the young staffer an apology and that reporters need to show respect to the White House, adding that what Acosta did is "very unfair to the rest of the press corps." She further noted that as someone who has "had people put their hands" on her, she doesn't like Acosta "pulling that mic back and doing on her arm — it looked like a karate chop."
Watch the clip above, via Fox News.