Daily Caller Co-Founder Calls Small Antifa Protest At Tucker's House An 'Act Of Terrorism'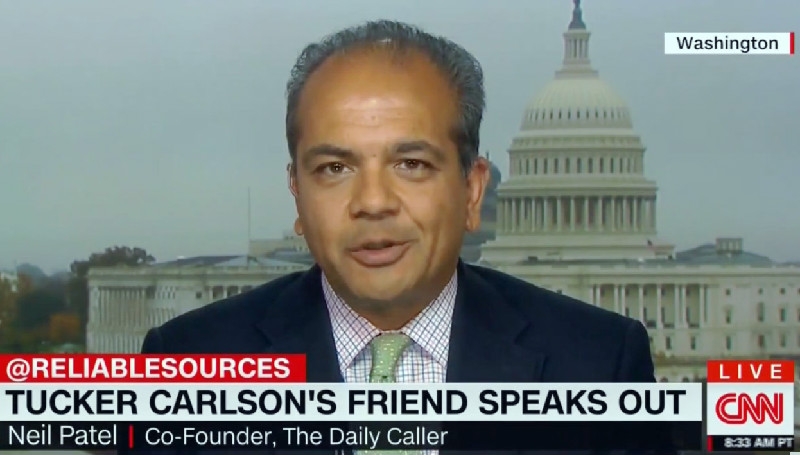 Following a protest by anti-fascist group Smash Racism DC at Fox News host Tucker Carlson's home Wednesday night, media personalities and outlets — including many of Carlson's loudest critics — have been united in condemning the actions and rallying around the conservative commentator. One of those critics who has roundly denounced the protest has been CNN senior media correspondent Brian Stelter.
During this morning's broadcast of Reliable Sources, Stelter brought on Carlson's friend and Daily Caller co-founder Neil Patel to discuss the incident and provide any updates from Tucker and his family. In the end, Patel described the small, short, disruptive protest as an "act of terrorism."
Regarding the demonstration itself — which consisted of about a dozen protesters — Patel highlighted that Tucker was prepping for his show when he discovered there was something going on at his house, noting that Carlson's wife was home alone. Patel then reiterated what Carlson had told the Washington Post about the activists pounding on the front door.
"She was there and preparing food in the kitchen and she hears this giant commotion and people start throwing themselves on the door to the point where the door cracked," Patel noted. "She thought there was some kind of home invasion or something going on and she took off and hid in a closet or pantry and called the police."
While Carlson has claimed the front door was cracked, the police report of the incident does not mention any damage to the front door and the Washington Post found no cracks in the door or frame when it went to the property the following day. A ThinkProgress reporter who was on scene during the protest stated that one person loudly knocked on the door three times and did not witness anyone throwing themselves against the door.
Patel went on to say it was unfair to call this a protest because video showed the activists were chanting they would stay and fight and they knew where Tucker slept at night. Stelter agreed that it was "a very clear threat."
"That's a threat, not a protest," Patel declared. "They're trying to continue to intimidate not just him, but even worse his wife and children. I think it's not legitimate to call that a protest. There are many ways you can protest, many legitimate ways you can protest. This is an act of terrorism."
In the wake of the demonstration at Carlson's private home, Fox News chiefs Suzanne Scott and Jay Wallace called the "violent threats and intimidation tactics" against Carlson "completely unacceptable" and "reprehensible," adding that recent events "clearly highlight the need for a more civil, respectful, and inclusive national conversation." It has also been reported that the network is engaging in a silent protest against Twitter by refusing to tweet out its content on its official account.
Watch the clip above, via CNN.