CNN And Fox News Agree: 'It's Completely Unacceptable To Threaten A TV Host'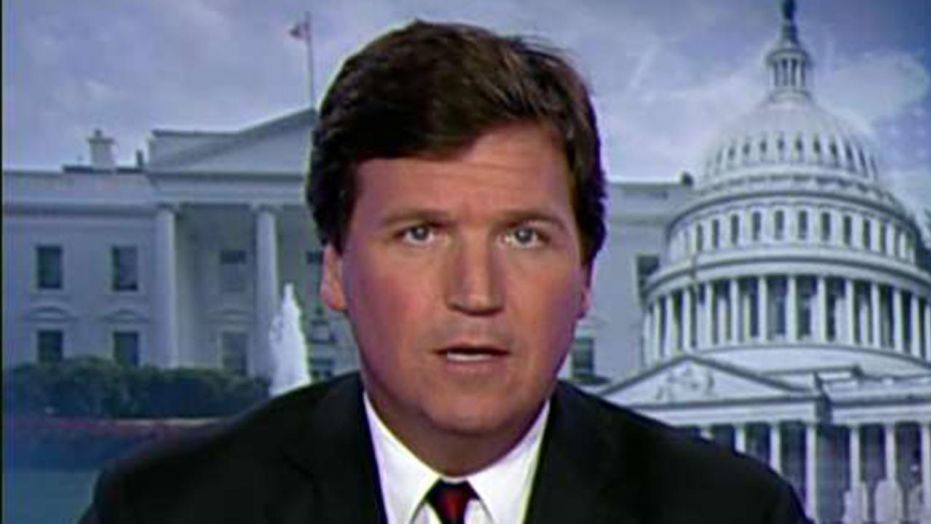 On Wednesday night, a group of anti-fascist activists protested outside Fox News star Tucker Carlson's home, pounding on his door to the point of cracking it while spraypainting anarchy symbols on his driveway. Tucker's wife believed it was a home invasion and called the police while hiding in a pantry. Law enforcement is investigating the incident as a possible hate crime and Twitter has disabled the account of Smash Racism D.C. after it posted Carlson's home address.
With Carlson's colleagues and critics coming together to denounce the threats and invasion of privacy, Fox News brass issued a statement calling on those in the media and politics to find "common ground."
"The incident that took place at Tucker's home last night was reprehensible. The violent threats and intimidation tactics toward him and his family are completely unacceptable," said Fox News CEO Suzanne Scott and President Jay Wallace.
The added, "We as a nation have become far too intolerant of different points of view. Recent events across our country clearly highlight the need for a more civil, respectful, and inclusive national conversation. Those of us in the media and in politics bear a special obligation to all Americans, to find common ground."
After Fox News released its remarks, CNN's PR team pointed out that this was something in which CNN and Fox News could find agreement on.
Something @CNN and @foxnews can agree on: it's completely unacceptable to threaten a TV host and his/her family. https://t.co/JM4RDphrOS

— CNN Communications (@CNNPR) November 8, 2018
"It's completely unacceptable to threaten a TV host and his/her family," the tweet read.
While Carlson's home was being targeted by an Antifa mob as his terrified wife hid inside, an Arkansas man was arrested for making dozens of calls to CNN anchor Don Lemon, threatening him with bodily harm and death.
These incidents come on the heels of a crazed Trump superfan mailing out over a dozen pipe bombs to prominent Trump critics, including CNN. Carlson has said that one of the protesters outside his home was caught on video saying that a pipe bomb would be sent to him.