WATCH: Anderson Cooper Grows Increasingly Frustrated With Conservative Panelist Over Birthright Citizenship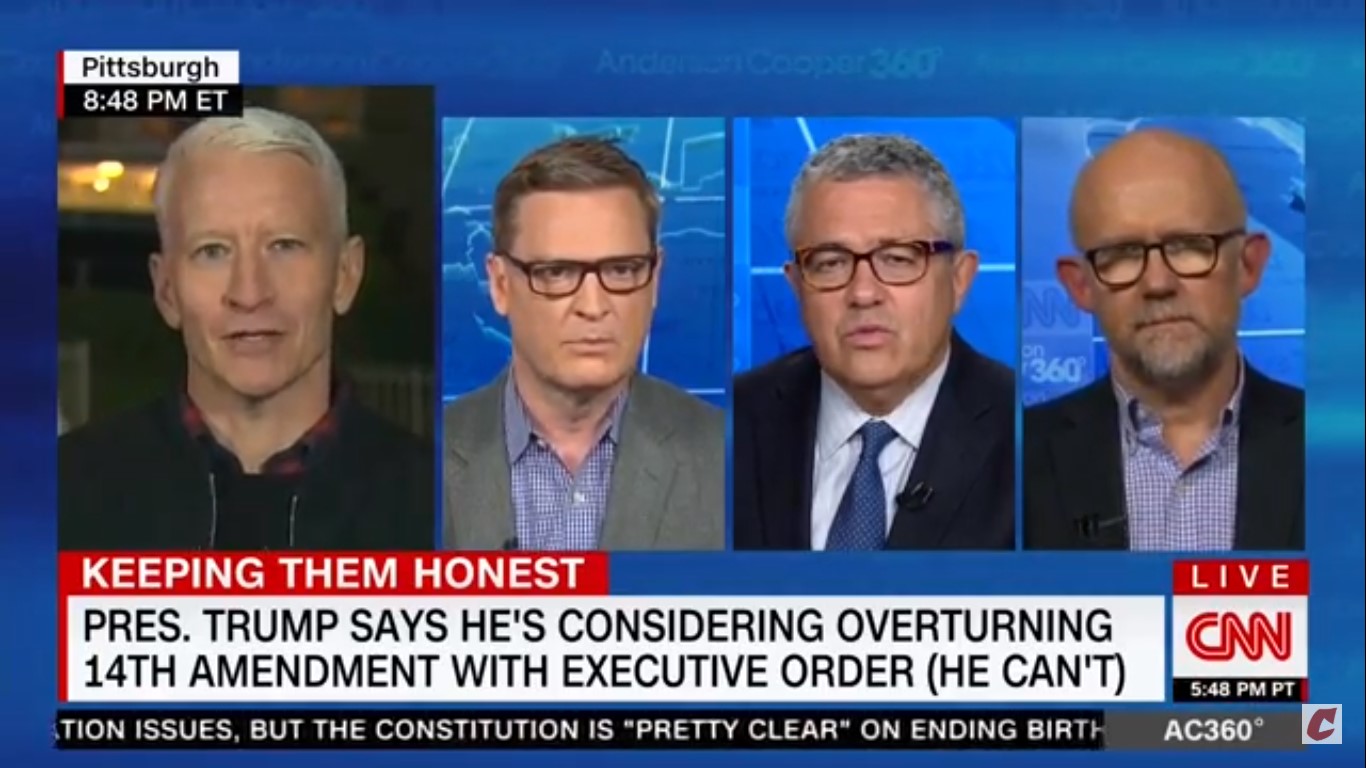 With President Donald Trump obviously trying to shift the news cycle away from a spate of right-wing domestic terror incidents when he told Axios' Jonathan Swan that he can end birthright citizenship via executive order, CNN anchor Anderson Cooper moderated a panel discussion Tuesday night on the topic. And it ended with him visibly expressing his frustration when CNN political commentator Mike Shields just wouldn't budge when Cooper pointed out how ridiculous this whole thing was.
After fellow panelists Rick Wilson and Jeffrey Toobin called this a "political stunt" and "demagoguery" days before Election Day, and Shields said it was a "legitimate conversation" due to the "loopholes" for illegal immigrants, Cooper then confronted Shields with a pointed question.
"The president announcing that he can do this by executive order, you know is just not true," the CNN host said. "Right?"
Shields initially tossed out a rote answer about immigration being the "defining issue" of the election, Cooper pushed back, demanding that he answer whether he knows Trump can't do that. The conservative commentator first noted that he "didn't know" if it could be done constitutionally before finally saying that it doesn't appear that is the case after Cooper badgered him some more.
Wilson would jump into the mix for a bit but Cooper still wanted Shields to admit that this was all a political stunt:
"You know this is ridiculous. I mean, this is ridiculous for the president to have this discussion. It's purely about just something to throw up a week before the election to stop people talking about 11 murdered Jews a block behind me. It's clearly just like bombs being sent to people that the president, you know, singled out and railed against and got stadiums to rail against was message the president really wanted to talk about and he tried to change the subject. You are don't believe he's trying to change the subject off of what happened here?"
Shields said he didn't think it was done to change the narrative before complaining about "partisan fights" around the shooting and claiming that we really should be talking about the rise of anti-Semitism. This caused Cooper to note that they were only talking about birthright citizenship because the president brought it up.
With the GOP operative pivoting back and saying immigration is a very important issue in the election, Cooper ended the segment with a bemused look on his face.
"Mike Shields, I appreciate it," the anchor sighed at the end.
Watch the clip above, via CNN.