'Fake Bombs': Fox Business Host Lou Dobbs Deletes Tweets Calling Bomb Scare 'Fake News'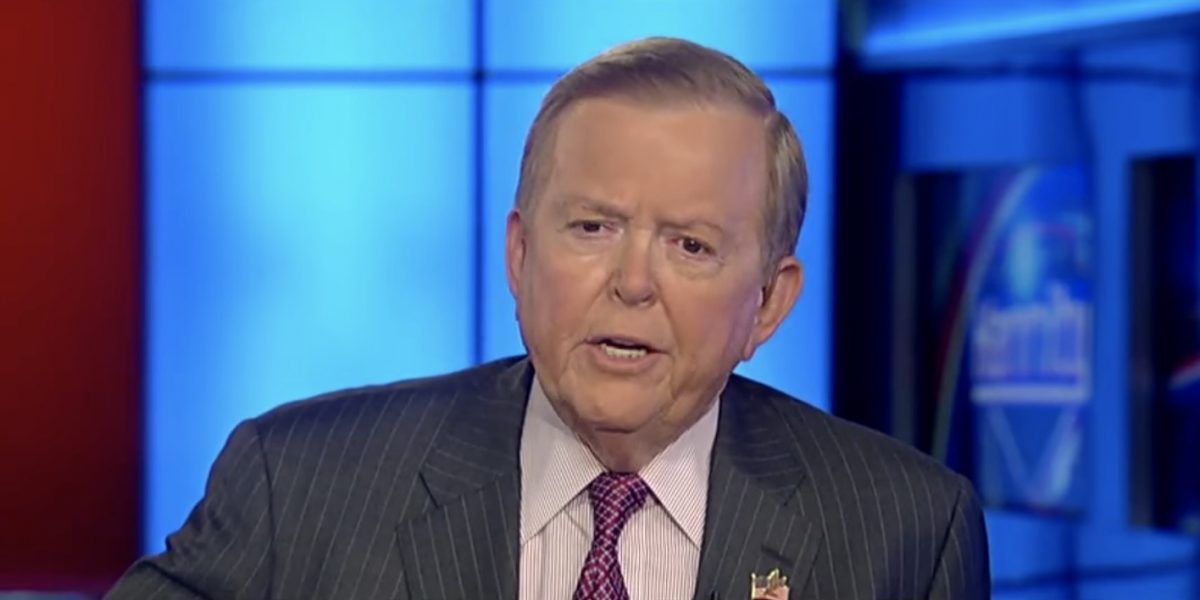 Trump-boosting Fox Business host Lou Dobbs — who serves as an unofficial adviser to the president — deleted a couple of tweets this morning that claimed the pipe bombs mailed to multiple prominent Democrats and CNN's New York offices were nothing more than a false flag.
In his first tweet, the conservative TV personality added his name to the growing chorus of right-wing voices who are convinced that Democrats set up the mail bombs sent to two ex-presidents, a former attorney general, a sitting congresswoman and billionaire philanthropist, among others.
"Fake News–Fake Bombs," Dobbs wrote. "who could possibly benefit from so much fakery?"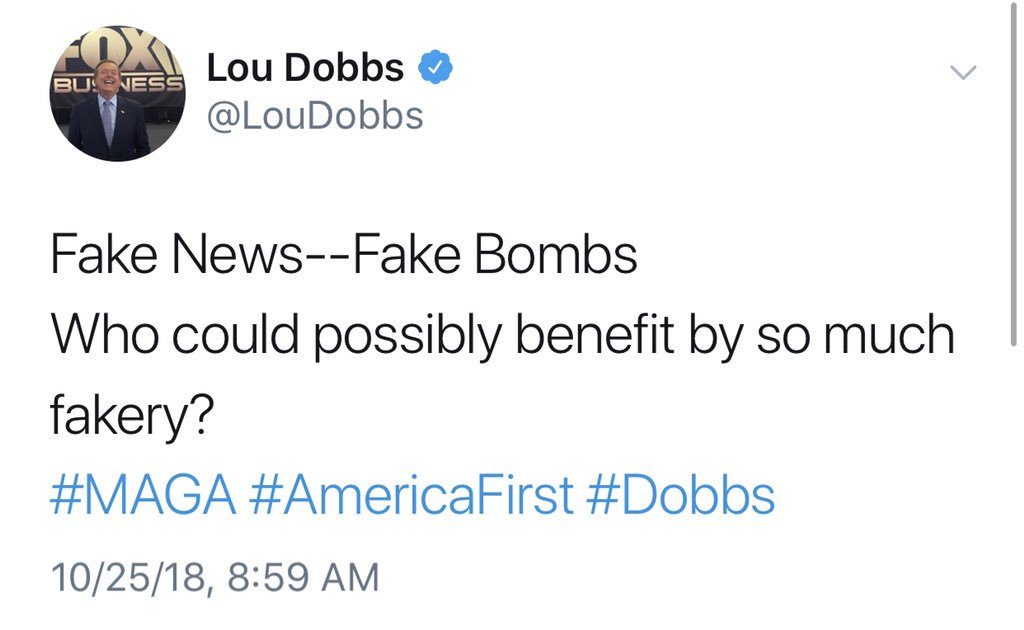 After the tweet drew outrage online, Dobbs deleted it, replacing it with another one that claimed the "Fake News has just successfully changed the narrative from the onslaught of illegal immigrants and broken border security to 'suspicious packages': Let's get back to Left-Wing drive Caravans and the Dimms who encourage them!"
For those who are unfamiliar with Dobbs' extreme pro-Trump Fox Biz broadcasts, "Dimms" is his oh-so-witty nickname for Democrats.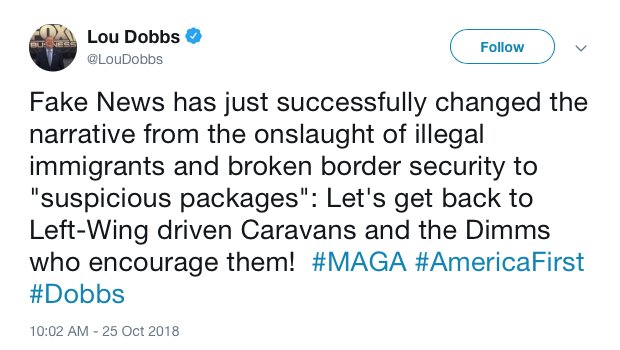 He has since deleted this tweet as well.
In the wake of the bomb scare, which has expanded to former Vice President Joe Biden and actor/activist Robert De Niro this morning, a number of Fox News guests have brought up the possibility that this is all part of a false flag operation by the left to drive sympathy for Democrats. During one segment on Fox Wednesday evening, host Martha MacCallum replied with "fascinating" when her guest suggested Democrats planted the bombs to stoke fears ahead of the midterms.
We have reached out to Fox Business for comment on Dobbs' tweets and will update this post if we hear back.
Meanwhile, Dobbs posted another tweet saying he will address the matter on his program this evening:
On Lou Dobbs Tonight I'll take up why FBI and ATF hasn't informed the public about contents of "suspicious packages": whether hoax or bombs, they were clearly designed to influence election. Why? #Dobbs

— Lou Dobbs (@LouDobbs) October 25, 2018