GOP Senate Candidate Accuses Her Dem Opponent Of Being 'Propped Up' By George Soros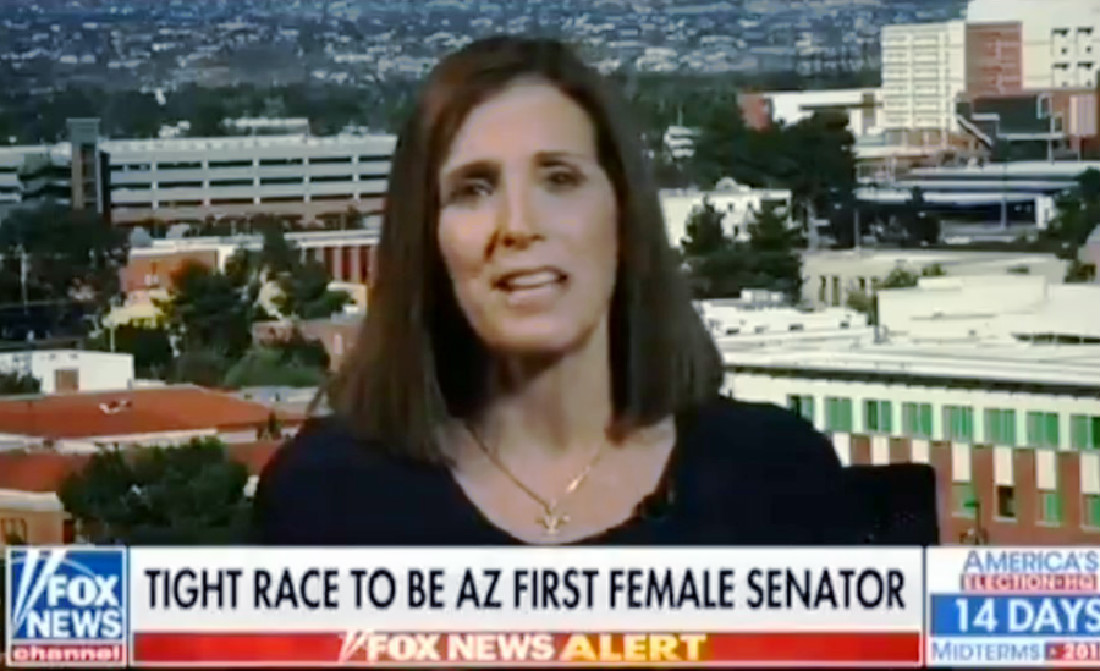 With the midterms now only two weeks out, Republicans are apparently feeling more emboldened to openly embrace right-wing conspiracy theories while tossing out racist and anti-Semitic dog whistles in an effort to stoke fear and bigotry to motivate its base.
During an appearance on Fox News' America's Newsroom this morning, Rep. Martha McSally (R-AZ) — who is running for Senate in Arizona — took aim at her Democratic opponent, Rep. Kyrsten Sinema, by tying her to financier and progressive philanthropist George Soros and two other people with Jewish heritage.
After co-anchor Sandra Smith noted that the Arizona Republic harshly criticized McSally for wearing a "false front" in its endorsement of Sinema, McSally brushed it off by noting that the Republic also endorsed Hillary Clinton in 2016. She then touted her military experience before painting the Democratic candidate as an extreme leftist under the control of Soros.
The day after someone left an explosive in George Soros's mailbox, AZ GOP Senate nominee Martha McSally joins right wing media's anti-Semitic conspiracy theories, accusing her opponent of being "propped up" by Soros and two other people with Jewish heritage pic.twitter.com/Fwt1gwTQpK

— Steve Morris (@stevemorris__) October 23, 2018
"We need to make sure that people are aware that my opponent has been propped up by George Soros, Chuck Schumer, Tom Steyer — trying to present herself as right-of-center when she is not," McSally exclaimed, stipping away all subtext from her messaging.
The Arizona lawmaker invoking conservatives' favorite boogeyman comes hours after an explosive device was found in the mailbox of Soros' New York residence. Right-wing pundits, politicians and President Trump have falsely accused the Jewish billionaire of funding the Central American migrant caravan currently making its way through Mexico. This comes on the heels of Trump and others baselessly claiming that Soros was paying anti-Kavanaugh protesters.
Meanwhile, this is just the latest smear Sinema has had to endure at the hands of McSally. During a recent debate, the Republican congresswoman labeled Sinema a traitor over comments she made over a decade ago when she was an anti-war activist.