TPUSA Founder Charlie Kirk Deletes False Kanye Tweet He Copied From Serial Plagiarist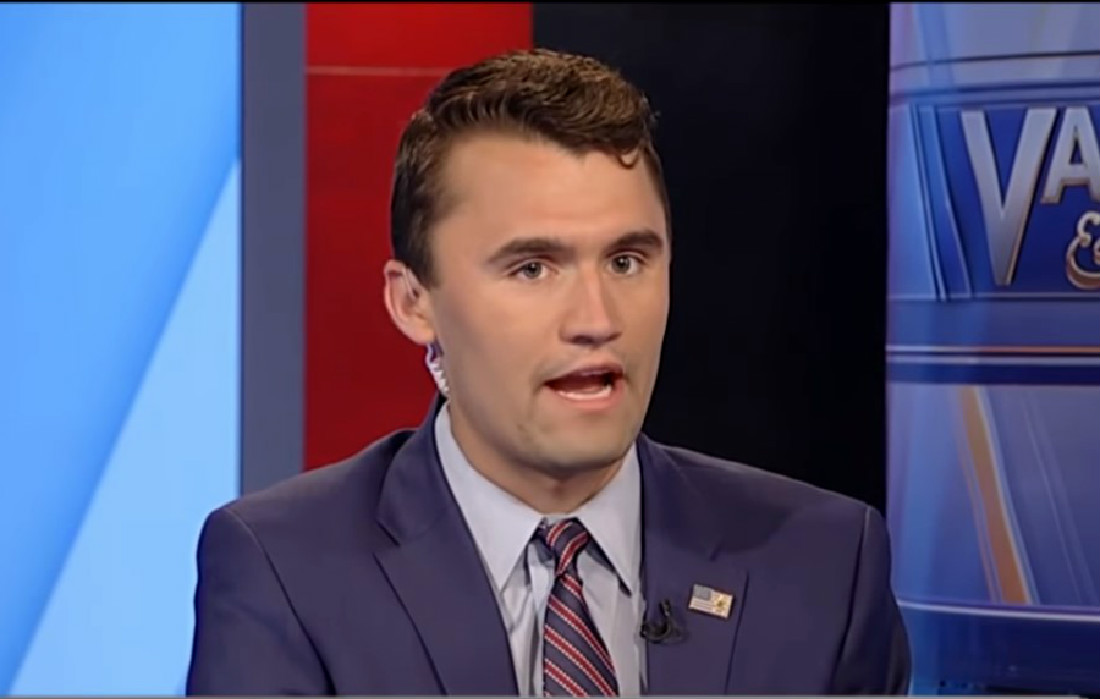 Less than a week after serial plagiarist and worst reporter in D.C. Benny Johnson was absolutely dragged over his highly false and likely racist tweet about red-pilled rapper Kanye West in an effort to attack the Trump-supporting artist's media detractors, Turning Point USA founder and rising conservative star Charlie Kirk plagiarized Benny's tweet because of course. (Full disclosure: This author briefly worked with Johnson.)
In case you missed it, following West's off-the-rails White House meeting that left many in the media slack-jawed in disbelief, Johnson tweeted out the following widely-mocked message that obviously showed he knew nothing of West's life history:
"A black man, born impoverished & into a broken home, works his way into a multimillionaire global pop star, fashion guru & cultural icon," Johnson wrote, adding that West was labeled a "token negro" and "mentally ill" while others attacked his "dead mother."
Of course, it didn't take long for observers to drag Benny for not realizing that West grew up in the suburbs and that both of his parents had well-paying careers, with West's mother eventually becoming a department head at Chicago State University. Johnson would eventually delete the tweet after facing widespread mockery for seemingly assuming a black man grew up poor.
For some reason, five days later, Kirk — who has ridden West's coattails in recent months after the pop megastar expressed admiration for Kirk's colleague Candace Owens — appropriated Johnson's tweet as his own, merely changing a few words around.
Take a look for yourself: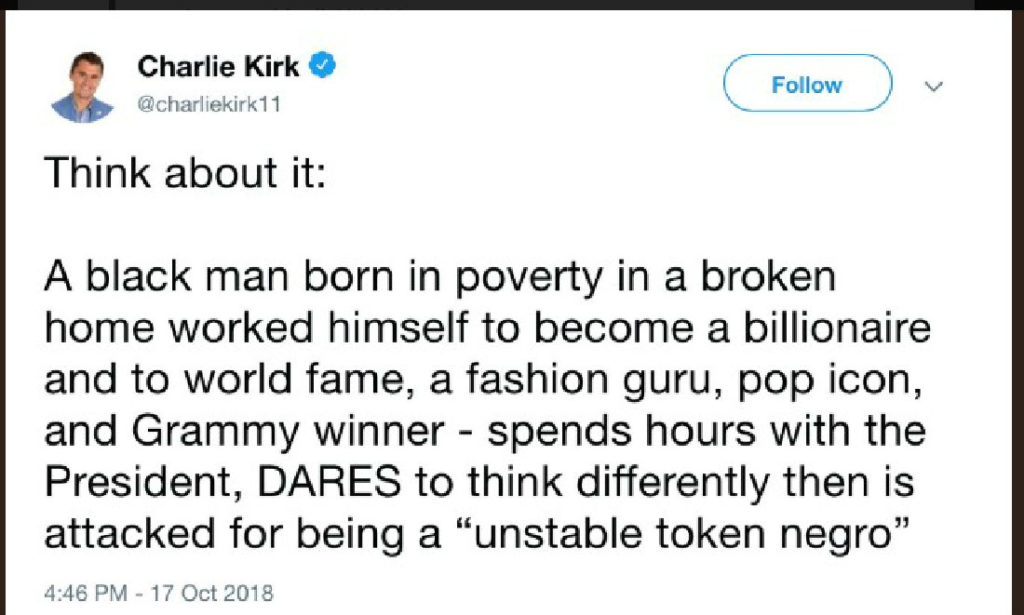 Well, it didn't take long for folks to notice that this looked mightily familiar.
It appears TP USA founder Charlie Kirk just took Benny Johnson's tweet and slightly reworked some of the words. Johnson was forced to correct his tweet after being called out. pic.twitter.com/UUE7DaSG6d

— 💀andrew👻kaczynski🎃 (@KFILE) October 17, 2018
Charlie Kirk plagiarized Benny and his "never research anything before commenting on a subject" model pic.twitter.com/1zZr5x1dux

— Dusty (@DustinGiebel) October 17, 2018
You plagiarized a man who was fired for plagiarism *and* what you plagiarized was fundamentally wrong, as Kanye West grew up in the suburbs with a college professor mom.

That's really quite impressive. pic.twitter.com/OPe3Ewr9HD

— Kevin M. Kruse (@KevinMKruse) October 17, 2018
And just like the right-wing media gadfly he copied his work from, Kirk would eventually delete the tweet after being properly shamed for it. Don't worry, though. We're sure he's hard at work right now churning up some more bumper sticker slogans and reading QAnon message boards.