Laura Ingraham Mocks Sexual Assault Survivors Who Confronted Jeff Flake: 'Look At Me! Look At Me!'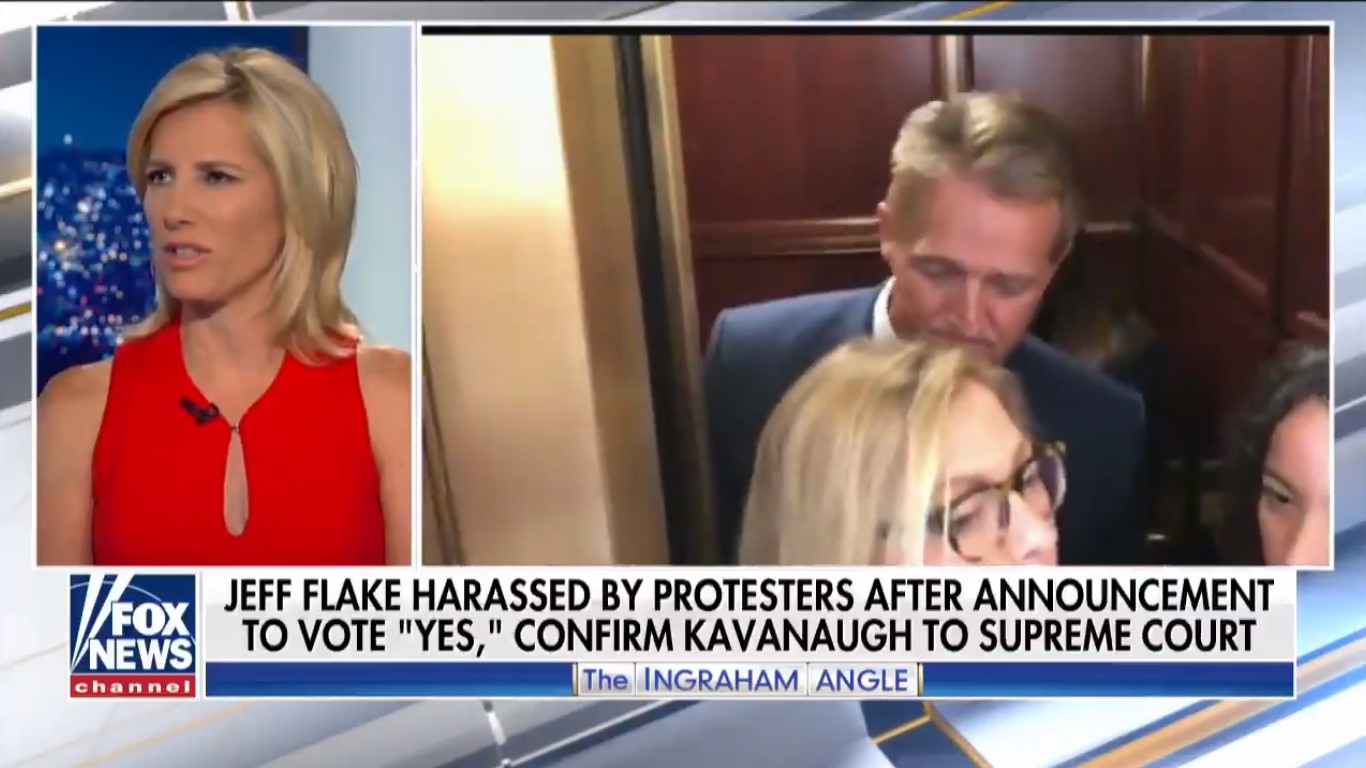 Minutes after he announced he would be voting to confirm Supreme Court nominee Brett Kavanaugh, Sen. Jeff Flake (R-AZ) was confronted in a Capitol Hill elevator by two female sexual assault survivors in a stunning and jaw-dropping moment. Shortly after the women told Flake that he was effectively telling "women that they don't matter," the Republican senator called for a one-week delay in the floor confirmation vote so the FBI could further investigate the allegations that Kavanaugh sexually assaulted Christine Blasey Ford.
With Flake saying that the confrontation "struck a chord" with him, Fox News host Laura Ingraham and guest Raymond Arroyo criticized and mocked the protesters, wondering aloud if the whole thing was "staged" while claiming they were looking for attention.
"This week, Capitol Hill offices were filled with protesters," Arroyo noted on Friday night's The Ingraham Angle. "Poor Lindsey Graham, he was outrunning the mob. This looked like something out of one of those Frankenstein movies, you know, where the villagers — look, they're yelling and screaming at him with signs, poking him."
As Ingraham remarked that there were "paid protesters" there, Arroyo brought up the incident with Flake, saying it was the moment the Arizona Republicans "claims caused his change of heart."
"The insistence, the anger, the harassment of public officials," he stated. "I worry about this. Do you think this is staged? Might have been staged, to justify the change of heart?"
"'Look at me, look at me' — I'm sorry, but, first of all, who's his staff?" Ingraham mockingly noted. "If you did that to one of those women, they would be screaming harassment."
She added, "They don't like it. First of all, if you're someone who is sexually assaulted, that is a horrible terrible thing but that therefore does not mean that every person who is accused of sexual harassment is guilty. The logic class doesn't seem to have been attended by these people."
Arroyo went on to he was worried that by "giving into the horde," we would be teaching kids to "throw a temper tantrum" and that we could see the left "unleash another Antifa-like swarm."
Watch the clip below.
Laura Ingraham and guest on sexual assault survivors protesting:
Raymond Arroyo: "This looked like something out of one of those Frankenstein movies…"
Laura Ingraham: "Paid protesters.
Raymond Arroyo: "Do you think this is staged?…"
Laura Ingraham: "Look at me! look at me!" pic.twitter.com/AhwoGrWQyI

— Contemptor (@TheContemptor) September 29, 2018