WATCH: Jeff Flake Confronted By Sexual Assault Survivors After Confirming He'll Vote For Kavanaugh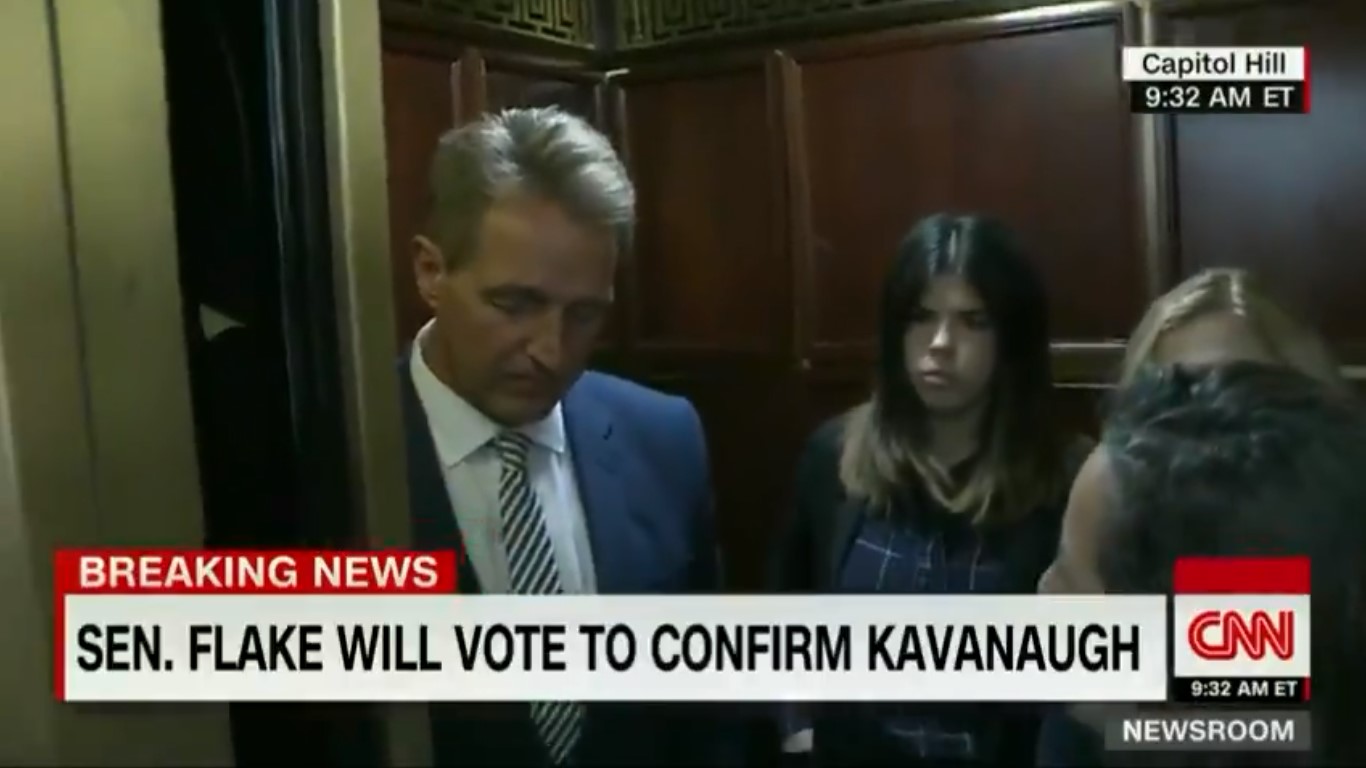 Minutes after releasing a statement announcing that he'd vote "yes" to confirm Supreme Court nominee Brett Kavanaugh, Sen. Jeff Flake (R-AZ) was confronted by activists and sexual assault survivors as he entered an elevator in the Senate, who told him he was letting women know "they don't matter."
"Our system of justice affords a presumption of innocence to the accused, absent corroborating evidence. That is what binds us to the rule of law," Flake wrote in his statement. "While some may argue that a different standard should apply regarding the Senate's advice and consent responsibilities, I believe that the constitution's provisions of fairness and due process apply here as well…I will vote to confirm Judge Kavanaugh."
Flake, who is retiring after this year, was the pivotal swing vote on the Senate Judiciary Committee and could have prevented Kavanaugh from moving out of committee. He was also one of the handful of Republicans and moderates who were undecided on Kavanaugh's confirmation amid the allegations raised by Christine Blasey Ford and others.
After that statement was released to the press, Flake found himself cornered by women as he boarded an elevator on his way to the committee to give his vote.
"I told the story of my sexual assault. I told it because I recognized the story that she is telling the truth," one woman exclaimed. "What you are doing is allowing someone who actually violated a woman to sit on the Supreme Court."
She continued, "This is not tolerable! You have children in your family! Think about them. I have two children. I cannot imagine that for the next 40 years they will have to have someone in the Supreme Court who has been accused of violating a young girl. What are you doing, sir?!"
Another woman who identified herself as a rape survivor angrily told Flake, who solemnly stood there in the elevator, that he was "telling all women that they don't matter, that they should just stay quiet because if they tell you what happened to them you are going to ignore them."
All Flake would say when asked if he had a response was "thank you," causing one woman to reply that "saying thank you is not an answer — this is about the future of our country!"
According to McClatchy, the women who confronted Flake are New York resident Maria Gallagher and co-executive director of the Center for Popular Democracy Ana Maria Archila.
The women who confronted Flake in the elevator were Ana Maria Archila, co-executive director of the left-leaning Center for Popular Democracy, and Maria Gallagher, a New York resident, McClatchy reports.

— Daniel Dale (@ddale8) September 28, 2018
Watch the clip above, via CNN.