Fox News' Judge Napolitano Calls On Senate To 'Subpoena' Christine Blasey Ford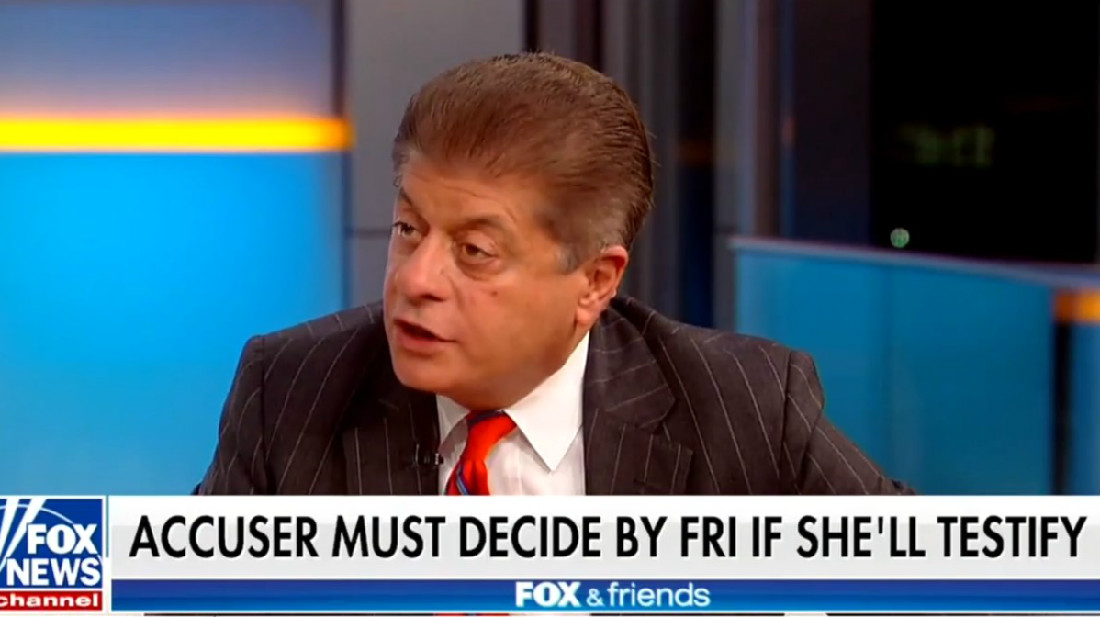 Appearing on Fox & Friends this morning, Fox News senior judicial analyst Judge Andrew Napolitano offered up some advice to Senate Republicans to force Brett Kavanaugh accuser Christine Blasey Ford to appear before a Senate hearing — subpoena her!
With Monday's hearing date in doubt after Ford's attorneys stated that the professor wants the FBI to investigate her allegations that Supreme Court nominee Kavanaugh sexually assaulted her when they were teenagers, Senate Judiciary Committee chairman Chuck Grassley has issued a Friday morning deadline for Ford to respond to his request that she speak to the committee.
Napolitano noted that Kavanaugh is currently facing a "dilemma" regarding the accusation because right now it is "hearsay."
"Dr. Ford spoke to a reporter for The Washington Post," the judge said. "The Washington Post printed what, in her view, is an accurate version of what Dr. Ford told her. Should Judge Kavanaugh be responding to an allegation recounted in a newspaper? Or should he be responding to the person who actually says he attempted to harm her?"
After saying that in "the real world" Kavanaugh wouldn't have an obligation to respond if she didn't show up to "articulate her allegations against him," Napolitano claimed that Kavanaugh is likely "dying to say" that the allegations never happened.
"But it is dangerous to deny before — particularly under oath, before the allegation is made." he declared. "So, I have a suggestion, if I may, for Senator Grassley and company: Subpoena her."
"Whoa," co-host Steve Doocy exclaimed.
"She decided to go to the press, maybe reluctantly," Napolitano continued. "She voluntarily spoke to The Washington Post … If they subpoena Dr. Ford, if they subpoena the therapist notes, if they subpoena Dr. Ford's husband who, according to Dr. Ford, was there when this incident was recounted, then they can interrogate them."
Later in the program, co-host Ainsley Earhardt cheered on Napolitano's suggestion, saying it would "be great" if the Senate subpoenaed Ford, adding that "if someone is going to accuse a man of this, then they need to come forward" and that it's "very dangerous to accuse someone of that and then not follow through with it."