FEMA Chief Disputes Puerto Rico Death Toll By Bringing Up Increases In Spousal Abuse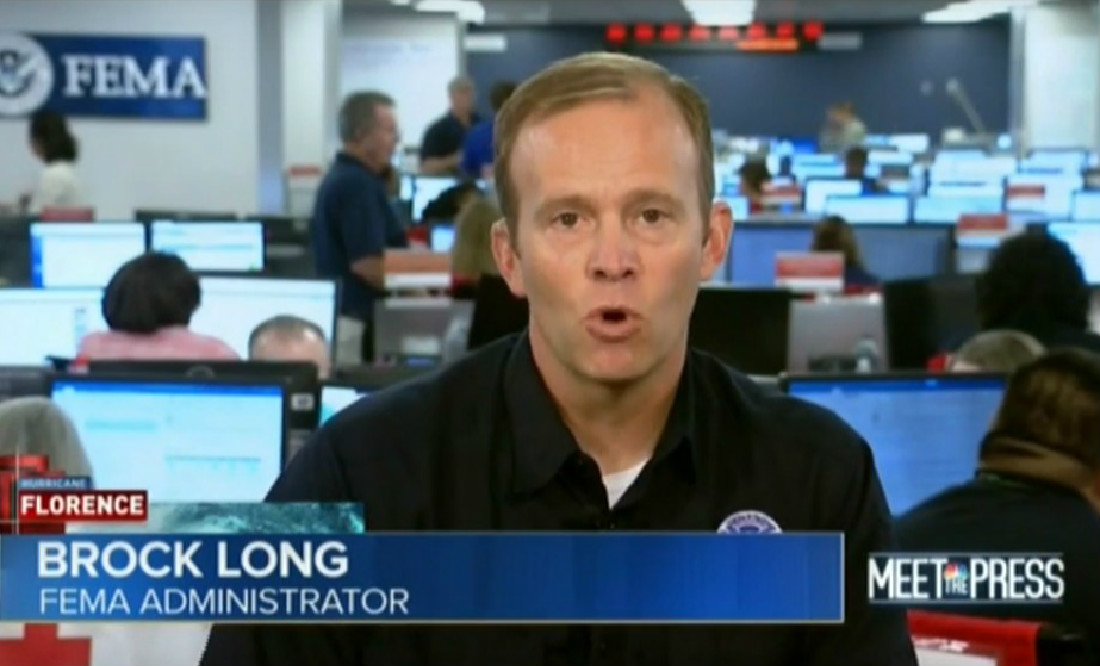 With President Donald Trump blaming the massive Puerto Rican death toll from Hurricane Maria on a Democratic conspiracy to make him look bad, FEMA Administrator Brock Long defended the president's comments by saying the "numbers are all over the place."
Appearing on NBC's Meet the Press, Long told host Chuck Todd that Trump "is being taken out of context" when he said that the federal response to Puerto Rico was an "unsung success" and "one of the best jobs ever done" when asked if there were lessons to be learned from Maria. Long followed that up with an allegory about chair legs to make a case that FEMA was only one part of the overall disaster response.
The Meet the Press host then wanted to know if FEMA accepted the official death toll number that the Puerto Rican government has embraced.
"The numbers are all over the place," Long responded. "FEMA doesn't count this, and if you take what's going on with Florence, the deaths that are verified by the local county coroners are the ones that we take."
After Todd pressed him on why the White House think the death toll matters, Long puffed up the president by touting the amount of support he has for FEMA before once again saying the "numbers are all over the place" when you compare different studies.
"He said Democrats did it to make him look bad," Todd noted. "Do you believe any of these studies were done to make the president look bad?"
The FEMA chief shrugged and said he doesn't "know why the studies were done" before stating that it is their job to figure out "why people died from direct threats." Discussing "indirect deaths" that took place up to six months later, Long offered up a bevy of instances that he believed could be counted.
"What happens, even in this event, you might see more deaths indirectly occur as time goes on because people have heart attacks due to stress," he declared. "They fall off their house trying to fix their roof. They die in car crashes because they went through an intersection where the stoplights weren't working."
Long continued, "You know, the other thing that goes on — there's all kinds of studies on this that we take a look at — spousal abuse goes through the roof. You can't blame spousal abuse after a disaster on anybody!"
OK then…
Watch the clip above, via NBC News.