Kellyanne Conway Admits She Has 'No Idea' Why Anonymous Op-Ed Would Be Illegal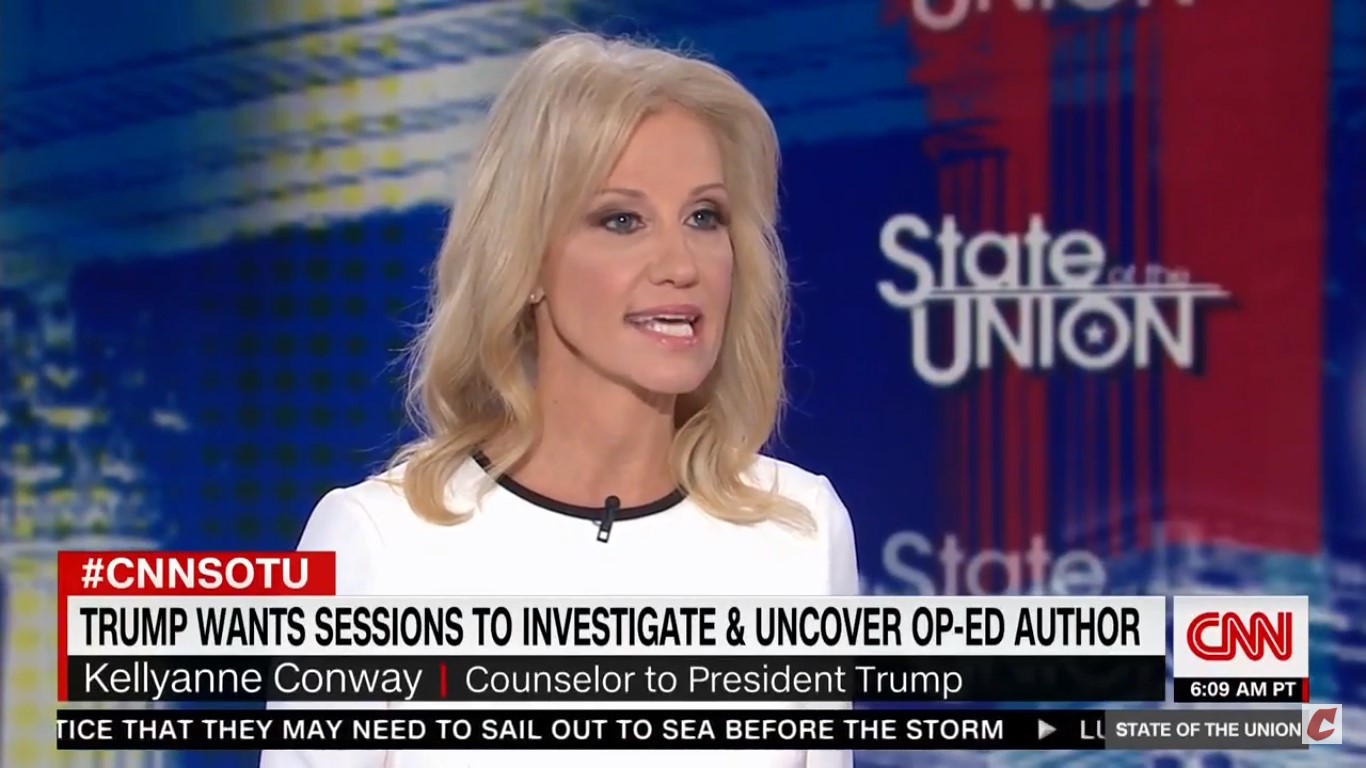 In the wake of the explosive anonymous New York Times op-ed written by a senior Trump administration official that describes a "resistance" against President Trump in the administration, White House counselor Kellyanne Conway has said that the president believes the author is "somebody in national security." Trump has also called on the Department of Justice to investigate the op-ed while demanding the Times release the name of the writer.
During an appearance on CNN's State of the Union, Conway somewhat walked back the claim that the author is part of the national security team. She also admitted that she didn't know why the op-ed would be illegal and needed to be investigated by the DOJ.
After Conway — who is one of the leading suspects as the op-ed author — stated that the op-ed shouldn't be viewed with any credibility and whined that CNN isn't covering the "economic boom" under Trump, anchor Jake Tapper asked her why the DOJ should investigate the piece.
"From what I understand, there can be an investigation if there is criminal activity perhaps," Conway responded, causing Tapper to say there doesn't appear to be any.
"I don't know that and I don't think you know that," the veteran pollster said, leading the CNN anchor to ask her what the criminal activity was.
She went on to say it all depends on "what else is divulged by the individual" and that no one knows what else this person could be saying. Conway also explained that there is a difference between criminal action and administrative action. Tapper pressed her again, asking specifically if she thinks the person broke the law.
"I don't know," Conway noted. "I have no idea."
Grilled further on whether or not the person might have broken the law, Conway conceded "I have really no idea — nor do you."
This has been another episode of 'Round and Round with Kellyanne.'
Watch the clip above, via CNN.