'Welcome To The Resistance!' Plaid Shirt Guy Goes Viral After Being Removed From Trump Rally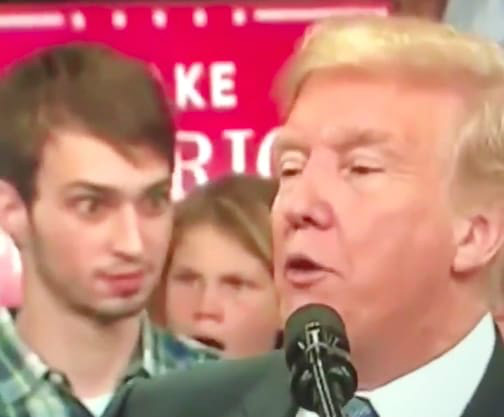 In case you missed it, President Donald Trump's campaign rally in Montana last night was an off-the-rails affair — more so than normal — that featured the president claiming Abraham Lincoln was the victim of "fake news" and calling on Sean Hannity to make his show even more pro-Trump, all while struggling to pronounce the word "anonymous."
This was all apparently too much to take for one rallygoer — who was standing directly behind the president onstage — and resulted in him being shooed off mid-speech. And has further resulted in the guy being celebrated online and going viral.
While watching Trump's speech, sharp-eyed Twitter observers noticed the plaid shirt-clad man and his reactions to much of Trump's insane and outlandish ramblings. For example, we see Plaid Shirt Guy shaking his head and asking "What?" when the president just strung a bunch of words together in a senseless fashion, as he is wont to do.
This guy rules pic.twitter.com/TgP1sHycVC

— Inter Miami Fan Acct (@Squanch_Me) September 7, 2018
I'll pay his appearance fee anytime! pic.twitter.com/JsOGEAoaHP

— Katie Moeser (@IamKatieMoe) September 7, 2018
He couldn't contain his laughter when Trump bragged about how great the economy and country is doing under his leadership.
@MalcolmNance the guy in the plaid shirt clearly doesn't believe everything Trump says. Montana. pic.twitter.com/m4rHMCUg3Y

— Chris Oliver (@chrisoliversyd) September 7, 2018
When the president declared that they've "picked up a lot of support," an incredulous Plaid Shirt Guy could be seen asking "have you?" while looking straight forward.
this was one of my favorites 'we've picked up a lot of support' plaid shirt guy 'HAVE YOU!??' pic.twitter.com/omM7i8zwPh

— Katie Moeser (@IamKatieMoe) September 7, 2018
One Twitter user put together a montage of Plaid Shirt Guy's best reaction's to Trump's performance.
Check out green plaid shirt guy behind trump-they moved him and the people with him🤣🤣🤣😂 pic.twitter.com/qxOz8joWB3

— Raffaella77 (@HeelSpurs0) September 7, 2018
Eventually, campaign staffers had enough of the unimpressed young man and decided to swap him off with someone who would deliver the proper MAGA response.
At Trump's Montana rally, some of his supporters seemed irritated. Some seemed unenthusiastic and even bored.

Is this why multiple supporters were swapped out? pic.twitter.com/NVlnK2zV19

— Rantt Media (@RanttMedia) September 7, 2018
By Friday morning, the internet was buzzing over Plaid Shirt Guy. Below are some of the best reactions:
the green plaid shirt guy is Anonymous https://t.co/ii6tHj9h0C

— Bill Kristol (@BillKristol) September 7, 2018
Welp, maybe this is why Plaid Shirt Guy had to go https://t.co/6txwyC4zWk

— Ragnarok Lobster (@eclecticbrotha) September 7, 2018
Someone buy Plaid Shirt Guy a beer.

Ht @Squanch_Me pic.twitter.com/Vmja1ZaS5t

— ian bremmer (@ianbremmer) September 7, 2018
YOU MUST CLAP LOUDER FOR DEAR LEADER OR WE WILL REMOVE YOU

Can someone find out which gulag they took this guy to?

Watch closely: the dude in the plaid shirt behind Trump who isn't clapping enough. #FridayFeeling #FridayMotivation pic.twitter.com/3Y5NkRojPz

— Holly Figueroa O'Reilly (@AynRandPaulRyan) September 7, 2018
Welcome the resistance plaid shirt guy. https://t.co/vbgVVW2LN3

— Molly Jong-Fast (@MollyJongFast) September 7, 2018
Turns out the person who wrote the NYTimes Op-Ed piece was plaid shirt guy pic.twitter.com/spFAj70b73

— Roland Scahill (@rolandscahill) September 7, 2018
We are all Montana plaid shirt bro ——————-> https://t.co/KkEcKVKmpg

— Elizabeth Thorp (@ElizabethEThorp) September 7, 2018
Of course, the one question on everyone's mind is — just who is Plaid Shirt Guy?
Anyone figure out who "plaid shirt guy" is yet?

— Bill Prady (@billprady) September 7, 2018
hey, guy in this video, who are you? DM me https://t.co/b1yxPs6txt

— Sam Stein (@samstein) September 7, 2018
I'll echo what Sam Stein said — toss us a message, Plaid Shirt Guy. We'd love to talk to you!
UPDATE: The Plaid Shirt Guy has been found! The Daily Beast's Andrew Kirell was able to speak with 17-year-old Billings native Tyler Linfesty, who insisted he wasn't deliberately trying to troll the president during the rally. The high-school student also revealed he is a Democratic Socialist and said the Secret Service had him wait backstage for 10 minutes after he was pulled from the stage before telling him to leave and not come back.