Fox Host Pete Hegseth: Ryan Gosling's An 'Idiot' For Calling Moon Landing A 'Human Achievement'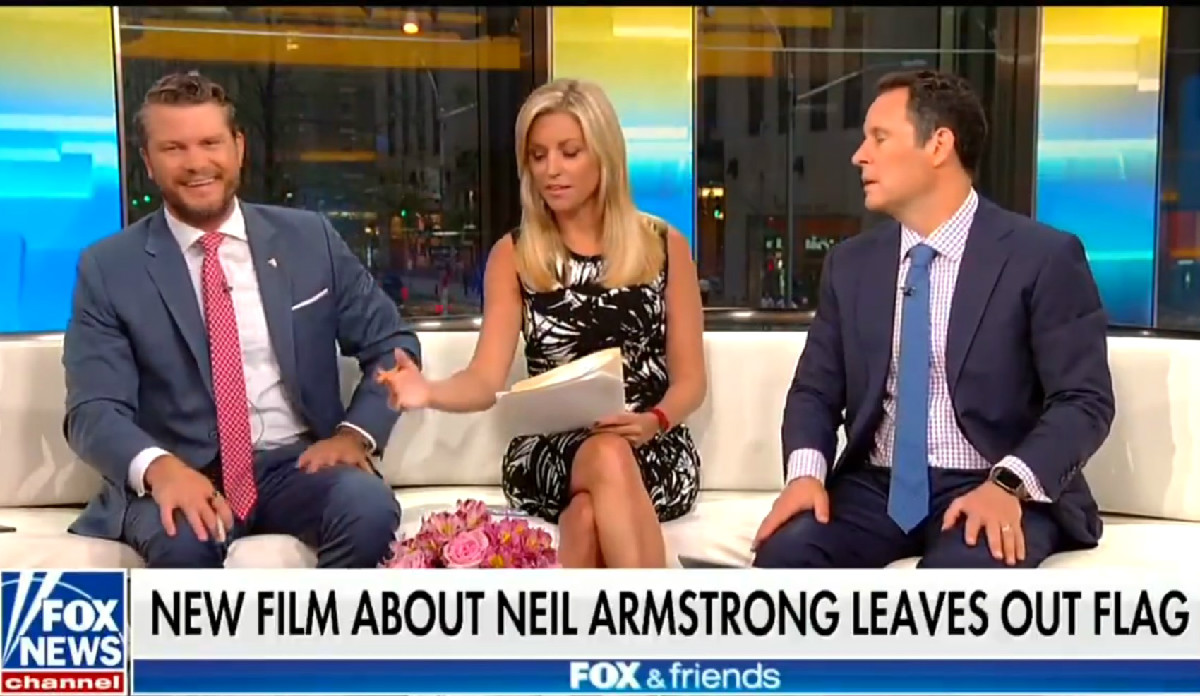 The Conservative Entertainment Complex has found its latest outrage in the neverending culture wars — a Ryan Gosling movie.
During Friday morning's broadcast of Fox & Friends, the curvy couch crew discussed the decision by the filmmakers of First Man — a biopic of astronaut Neil Armstrong — to not show Armstrong planting the American flag on the surface of the moon. According to star Gosling, they felt the moon landing "was widely regarded in the end as a human achievement [and] that's how we chose to view it."
"I also think Neil was extremely humble," he added in his interview with The Telegraph, "as were many of these astronauts, and time and time again he deferred the focus from himself to the 400,000 people who made the mission possible."
Let's just say this was not well-received by Fox & Friends' co-host Pete Hegseth, who made sure to highlight that Gosling is Canadian.
"Here's what I think — Ryan Gosling is an idiot," Hegseth snarled before going on a mini-tirade.
"He's a global citizen who thinks a bunch of humans got together and said, 'We're going to go to the moon,'" he exclaimed. "No! One country — compelled by capitalism, by free people, with a vision — said, 'We're going to do this!' Part of it is a space race to beat the Russians because the Cold War matters. Yet revisionist actors in Hollywood then preach to us that it was a human achievement, and Americans had nothing to do with it?!"
Fellow co-host Ainsley Earhardt would somehow tie this to NFL players kneeling during the national anthem to protest racial injustice, claiming this is "where our country's going" because "they don't think America is great."
Meanwhile, it should be pointed out that when Armstrong landed on the moon, he said these famous words: "That's one small step for man, one giant leap for mankind."
Watch the clip below.
Fox & Friends is pissed that @RyanGosling said the moon landing was a "human achievement" bc #actuallyMERICA #actuallyCAPITALISM pic.twitter.com/vryh41wqZh

— Grace Bennett (@gracel_bennett) August 31, 2018