Ron DeSantis Says Florida Voters Shouldn't 'Monkey This Up' By Electing Andrew Gillum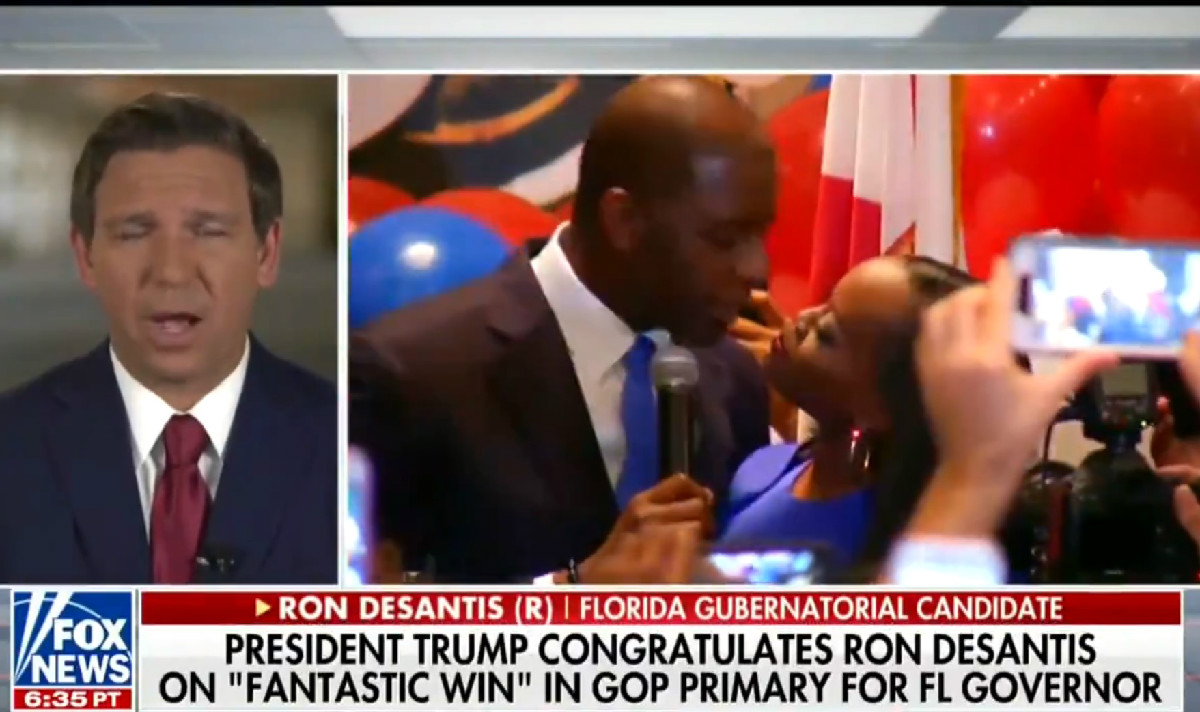 You can't make this up.
Appearing on Fox News the morning after he easily won the Republican nomination for Florida governor, Rep. Ron DeSantis (R-FL) weighed in on his Democratic opponent, Tallahassee Mayor Andrew Gillum. And he made an observation that he is already trying to clean up.
Speaking to America's Newsroom anchor Sandra Smith, the Trump-endorsed lawmaker began running down Gillum, who shocked the political world by beating out a crowded Democratic field to win the primary. After tossing out that standard criticisms about Gillum being too liberal for Florida and having a poor track record as mayor, DeSantis offered up this warning to Florida.
"So we've got to work hard to make sure we continue Florida going in a good direction — let's build off the success we've had under Governor Scott," he said. "The last thing we need to do is to monkey this up by embracing a socialist agenda."
So, yeah, Gillum is African-American.
With his comments immediately gaining attention online after his Fox News hit, A DeSantis spokesperson told NBC News' Ali Vitali that DeSantis frequently uses the "monkey" phrase and it has "nothing to do with race or anything like that."
DeSantis' spox tells me this is something the congressman says "frequently" to express something that was messed up or not done right.

Spox says it "had nothing to do with race or anything like that" but just talking about the situation in Florida. #FLGOV https://t.co/Eg6I3W9ivx

— Ali Vitali (@alivitali) August 29, 2018
OK then…
Watch the clip below, via Media Matters.
Florida Gov. candidate Ron DeSantis on his black Democratic opponent, Andrew Gillum: "The last thing we need to do is to monkey this up." (h/t @stevemorris__ ) pic.twitter.com/LvP176l47x

— Bobby Lewis (@revrrlewis) August 29, 2018
UPDATE: Smith addressed DeSantis' comments a little while later on the air, stating that the GOP lawmaker has since clarified his comments while noting that Fox News does "not condone this language and wanted to make our viewers aware that he has since clarified his statement. Also, Mayor Gillum will be on with Shepard Smith today at 3 PM."