Ari Fleischer Touts George H.W. Bush's 'Successful' 1992 'Annoy The Media, Re-Elect Bush' Slogan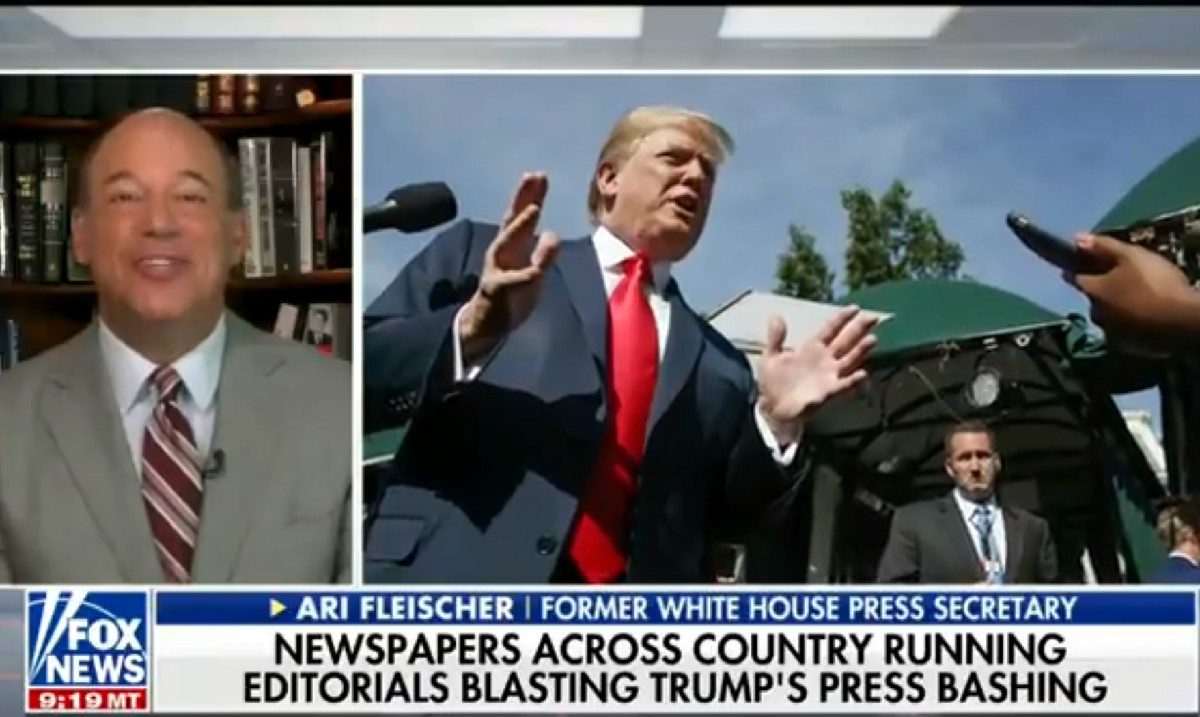 With hundreds of newspapers across the country joining the Boston Globe and running editorials promoting freedom of the press to combat President Trump's constant media attacks, the president took to Twitter Thursday morning to whine about the effort while describing it as "COLLUSION" and calling the "FAKE NEWS MEDIA" the "OPPOSITION PARTY." So, obviously, POTUS was having an extremely normal one.
Meanwhile, pro-Trump media figures have circled the wagons and criticized the papers' pushback against the president. Appearing on Fox News' America's Newsroom, former George W. Bush press secretary and current Fox contributor Ari Fleischer didn't see a problem with Trump focusing on attacking the media because it is apparent the press is "biased." And he used an odd example to make the case that the president should continue to press this a key talking point going into November's elections.
"Do you think this it's smart strategically for the president to stay on this message so close to the midterm elections?" Sandra Smith asked Fleischer. "His economic advisor Larry Kudlow was on this morning saying the biggest global story is the economic boom happening in this country. Does this message and others that we see the president tweeting on if it's not about the economy and what is winning for this White House, does it just distract?"
The former presidential flack stated that Trump is able to successfully engage on multiple messages at the same time while adding that Republicans have spent decades pointing out the "press is biased because the press is biased." He then brought up a previous GOP president who targeted the media during a re-election bid.
"George H.W. Bush's most successful slogan was 'Annoy the Media, Re-elect Bush,'" he noted. "And that was in, what, 1992. So this has been going on for a long time."
This is where it should be pointed out that Bush would go on to handily lose the '92 presidential election to Bill Clinton. The Democrat defeated the incumbent by nearly six million popular votes and 370-168 in the Electoral College. So one wonders how exactly one would call that a "successful slogan."
Fleischer went on to state that while he wouldn't go so far as calling the media "fake news" and the "enemy of the people," he does see bias in the press and is "glad it's being called out."
Watch the clip above, via Fox News.