CNN's Amanda Carpenter Goes Off On Ingraham: 'Who's The One Who Really Hates America?'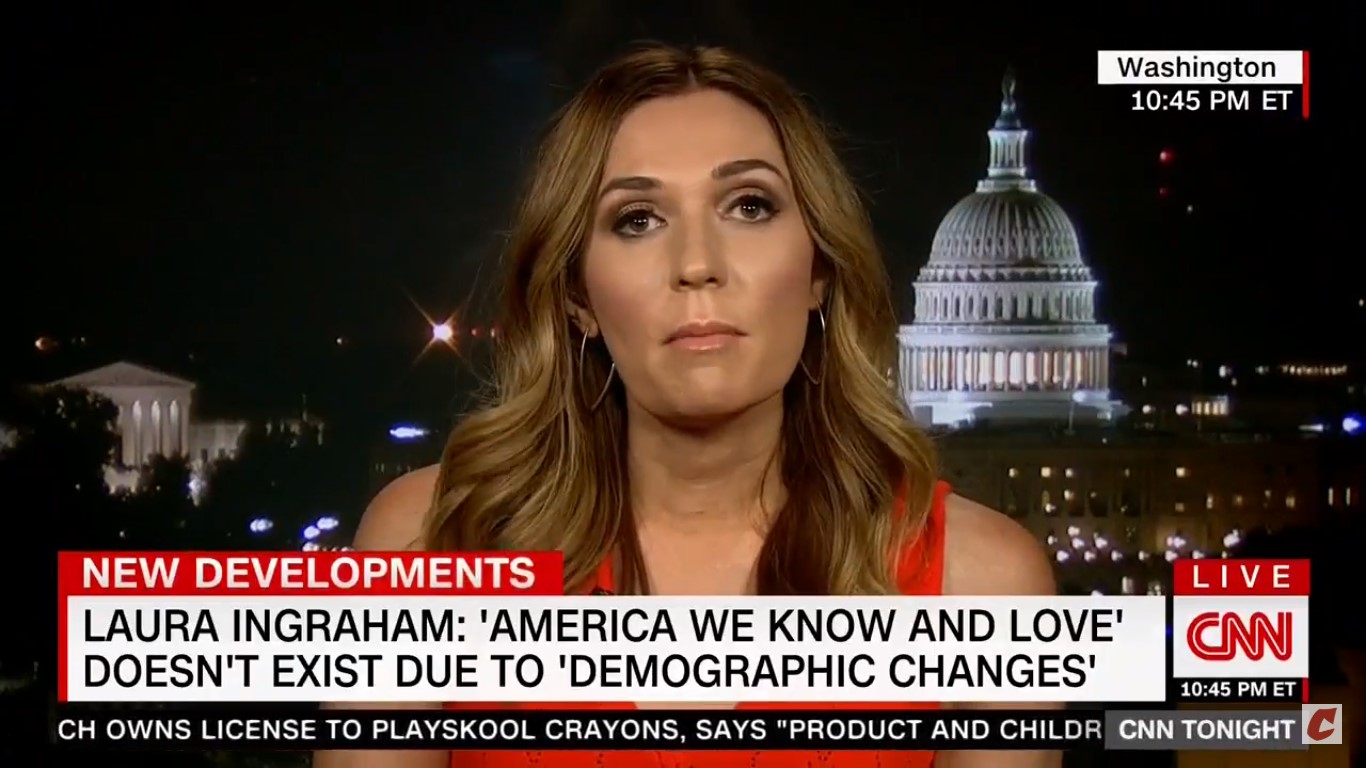 Shortly after Fox News' Laura Ingraham delivered a walk-back of her Wednesday night commentary in which she said the "America we know and love doesn't exist anymore" due to "massive demographic changes," a CNN panel of liberals and conservatives tore into her clean-up attempt while pointing out that her monologue was blatantly racist and bigoted.
Asked about Ingraham's remarks by anchor Don Lemon, CNN political commentator Van Jones stated he "was appalled by her comments" and is even "more appalled by her attempt to try to walk them back today as if we didn't hear what she said."
"I was shocked because she dropped all the pretense last night," Jones added. "Said this is about demographic changes. I'm sorry, that means race and ethnicity. Look it up."
He went on to note that she "dropped the dog-whistle," "picked up the megaphone," and is now trying "to pick up the dog-whistle again" but that it isn't going to work.
After conservative CNN contributor Scott Jennings agreed that Ingraham's remarks were about race and that it was wrong to target legal immigrants, CNN political commentator and former Ted Cruz staffer Amanda Carpenter laid into Ingraham.
Explaining that Ingraham used to be a role model for young conservative women like herself, Carpenter bemoaned that the Fox News host's "everyday arrogance and mean-spiritedness" had left her feeling "disillusioned."
"Here's what really grates me about Laura's comments last night," Carpenter asserted. "Her favorite thing to do is go on the air and lecture people about how liberals hate America."
She continued, "I have a lot of policy difference with liberals like Van. I know he loves america. I know we can agree that America's ideals are based on anybody can come here if you share our values, work hard, and get ahead. She said the opposite last night. It's based on demographics. And so Laura, I want to know who's the one who really hates America."
Watch the clip above, via CNN.