Rep. Steve King Teams Up With Charlie Kirk To Spread White Nationalist Propaganda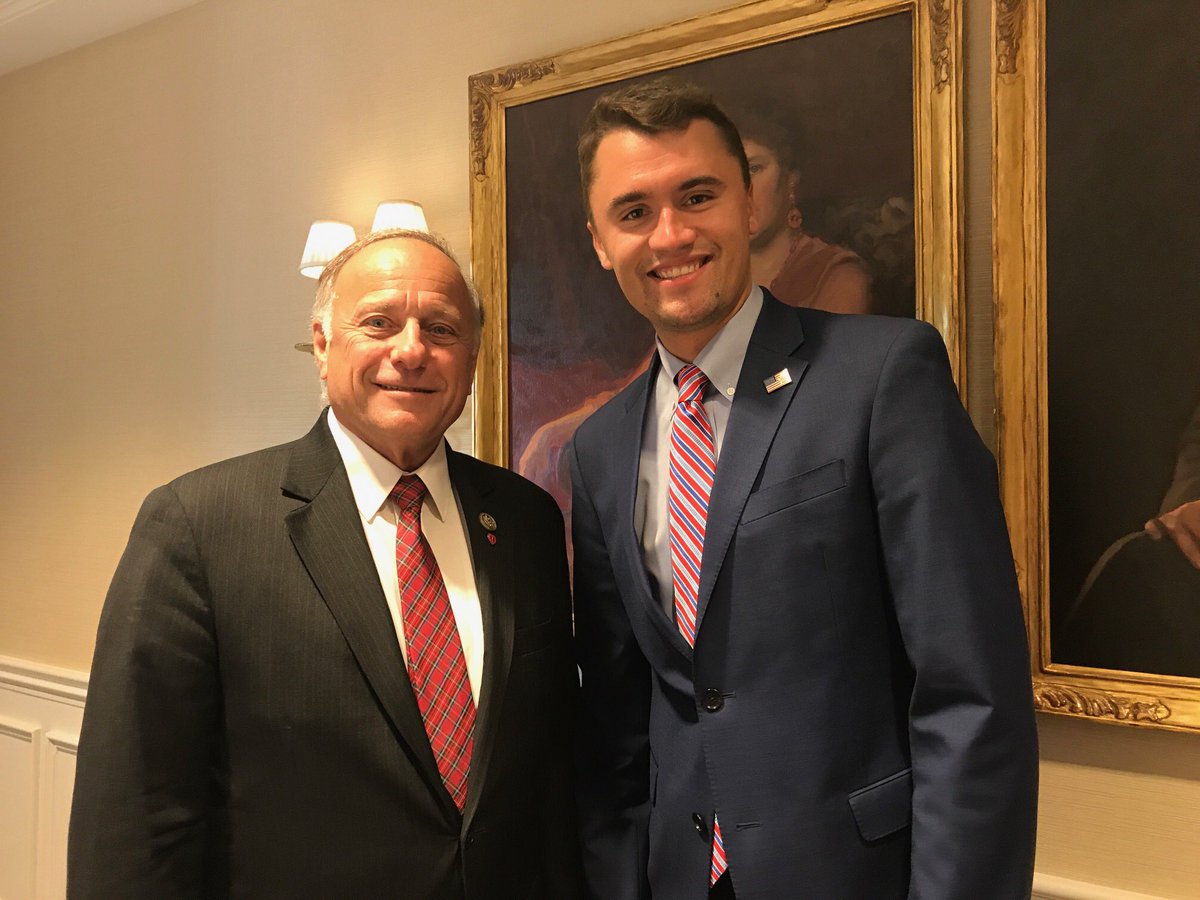 TPUSA founder Charlie Kirk has made a name for himself by kissing up to President Trump and latching onto Kanye West's recent red-pilling. He also has gathered a large social media following by pushing out bumper sticker conservative platitudes and blatantly false and misleading information that tends to parrot white supremacist propaganda.
Late Monday night, Kirk was back at it, tweeting out what can only be described as "fake news" in order to push an anti-immigrant agenda. Apparently cherry-picking stats from a Danish tabloid, Kirk claimed that 83 percent of "all rapes" committed in Denmark was by migrants or sons of migrants.
Shocking:

83% , 10 out of 12, of all rapes in Denmark are committed by migrants or their descendants

— Charlie Kirk (@charliekirk11) July 3, 2018
While Kirk claimed that this represented all rapes in the European country, the number only covered a small slice of rapes or attempted rapes. According to the Danish publication, 10 out of 12 cases during a period of about a year in which the victim did not know the perpetrator, the accused rapist was an immigrant or descendant of a migrant. Of course, the majority of rapes are committed by someone the victim knows, and that study did not include those cases.
It didn't take long for diversity-hating and anti-immigrant extremist Rep. Steve King (R-IA) — fresh off amplifying a Nazi sympathizer — to get a hold of Kirk's tweet. Repurposing the quote he used when retweeting a British alt-right propagandist — "Europe is waking up…Will America…in time?" — King retweeted Kirk.
(If) "Europe is waking up…Will America…in time?" https://t.co/Clz1oEYlGj

— Steve King (@SteveKingIA) July 3, 2018
And he liked the (fake) stat so much, he used it again when retweeting far-right vlogger and bigoted conspiracy theorist Peter Sweden.
Looks like Denmark has had enough (10 of 12 rapes are migrants or sons of same). Finally bad enough for Danes to legislate assimilation. Assimilation = the glue that binds diversity into a strength. https://t.co/XIsIlqgYa6

— Steve King (@SteveKingIA) July 3, 2018
King has recently come under fire for refusing to delete his retweet of Collett or apologize for it. He has claimed that he didn't know about Collett's history and that he was commenting more about the Breitbart article that Collett was sharing.
As for Kirk and King, it would appear they are two men of the same mind. Recently, King praised the young pro-Trump right-wing celeb for delivering a "clear analysis of the culture war" during a conservative breakfast they both attended.
.@CharlieKirk11 delivered a clear analysis of the "culture war" this morning at Conservative Opportunity Breakfast. Charlie is only 24 & has mastered a deep understanding of the destructive Left. pic.twitter.com/LgTrqAVo5F

— Steve King (@SteveKingIA) June 20, 2018
We have reached out to Kirk for comment and will update this piece if we hear back.