CNN Employee Rick Santorum Says It's 'Insulting' For Reporters To Ask For Details On North Korea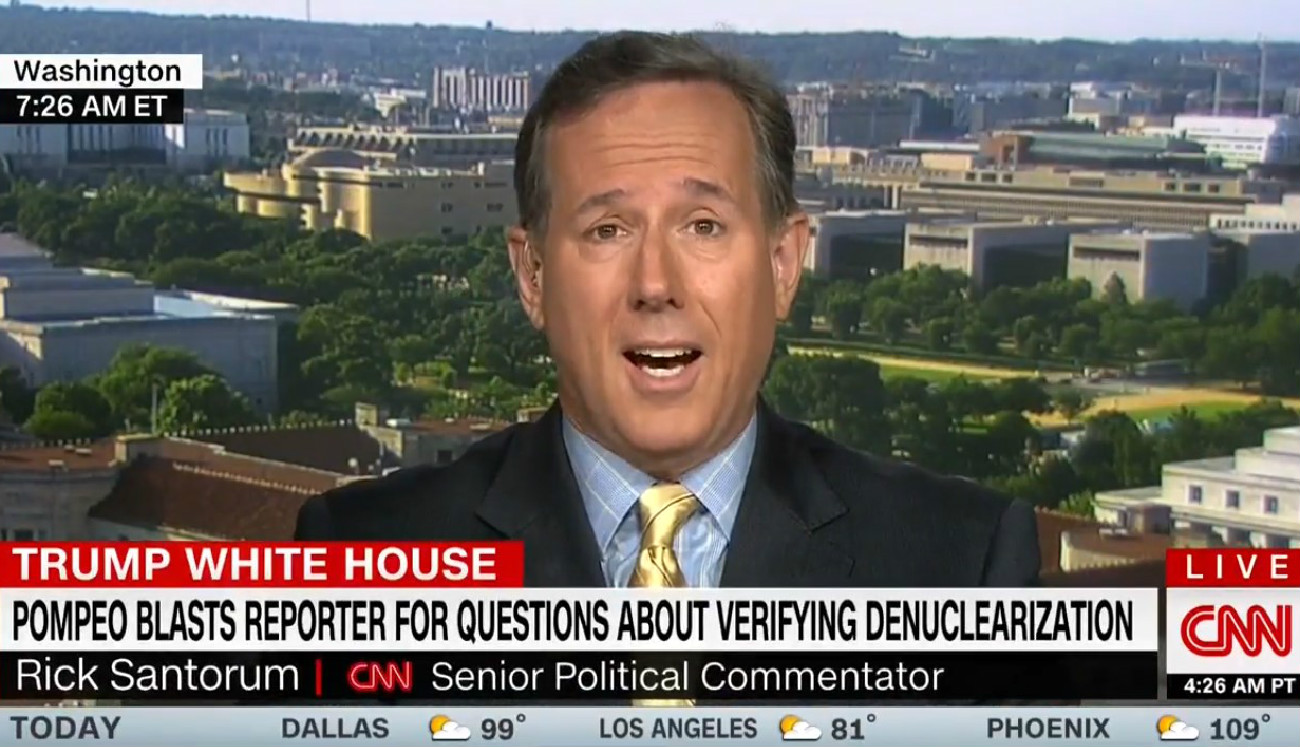 Earlier this week, Secretary of State Mike Pompeo blew up at a reporter for asking him how the United States would verify North Korea was denuclearizing considering the vague declaration signed by President Trump and Kim Jong Un provides no details. Pompeo called the question "insulting and ridiculous and, frankly, ludicrous" while insisting the statement included the verification process. (It doesn't.)
Appearing on CNN this morning, former Republican presidential candidate and current CNN political commentator Rick Santorum defended Pompeo's attacks on the media, stating that reporters shouldn't be asking for details at this point because it's just too early.
Responding to anchor John Berman asking whether he found questions about verification insulting, Santorum said he didn't before essentially backtracking and revealing that, yeah, he did.
"I think the idea that there would not be a verification and that the administration and he doesn't — excuse me, Secretary Pompeo doesn't understand that verification is a sine qua non for any agreement going forward is ridiculous," the ex-Pennsylvania lawmaker said. "That is insulting to suggest that we're not going to require specifics on verification."
Berman pushed back, noting that it is "crucial" to know the specifics on verification, causing Santorum to respond that getting into details of verification now "is probably way ahead of schedule." This then led Santorum to bring up Trump's recent claim that the media is America's "biggest enemy."
"I think both the coverage of this president and the negativity directed at this president, as well as the president's response to that negativity have both been disruptive," Santorum declared. "And I don't think there's a really good guy in this whole battle between the administration and the media at this point."
Following the segment, some media folks expressed disgust that a network-paid pundit would back the administration's insulting treatment of the press.
Rick Santorum, who is paid by a TV news network, says it's "insulting" for a reporter to question a govt official about the nuclear verification process: https://t.co/28B6o87vWG

— Michael Calderone (@mlcalderone) June 14, 2018
CNN should pull his contract. Ridiculous. https://t.co/jlObs4pTSL

— Glenn Kessler (@GlennKesslerWP) June 14, 2018
Three instances make a trend, right? Just in past few days, Pompeo, Parscale and now Santorum offer the wildly anti-democratic view that reporters asking questions is out of line, insulting — and maybe grounds for having press credentials revoked. https://t.co/uh9zu9fkuE

— Margaret Sullivan (@Sulliview) June 14, 2018
Watch the clip above, via CNN.