Giuliani Links Stormy Payoff To 2016 Election: 'Imagine If That Came Out' During Last Debate With Hillary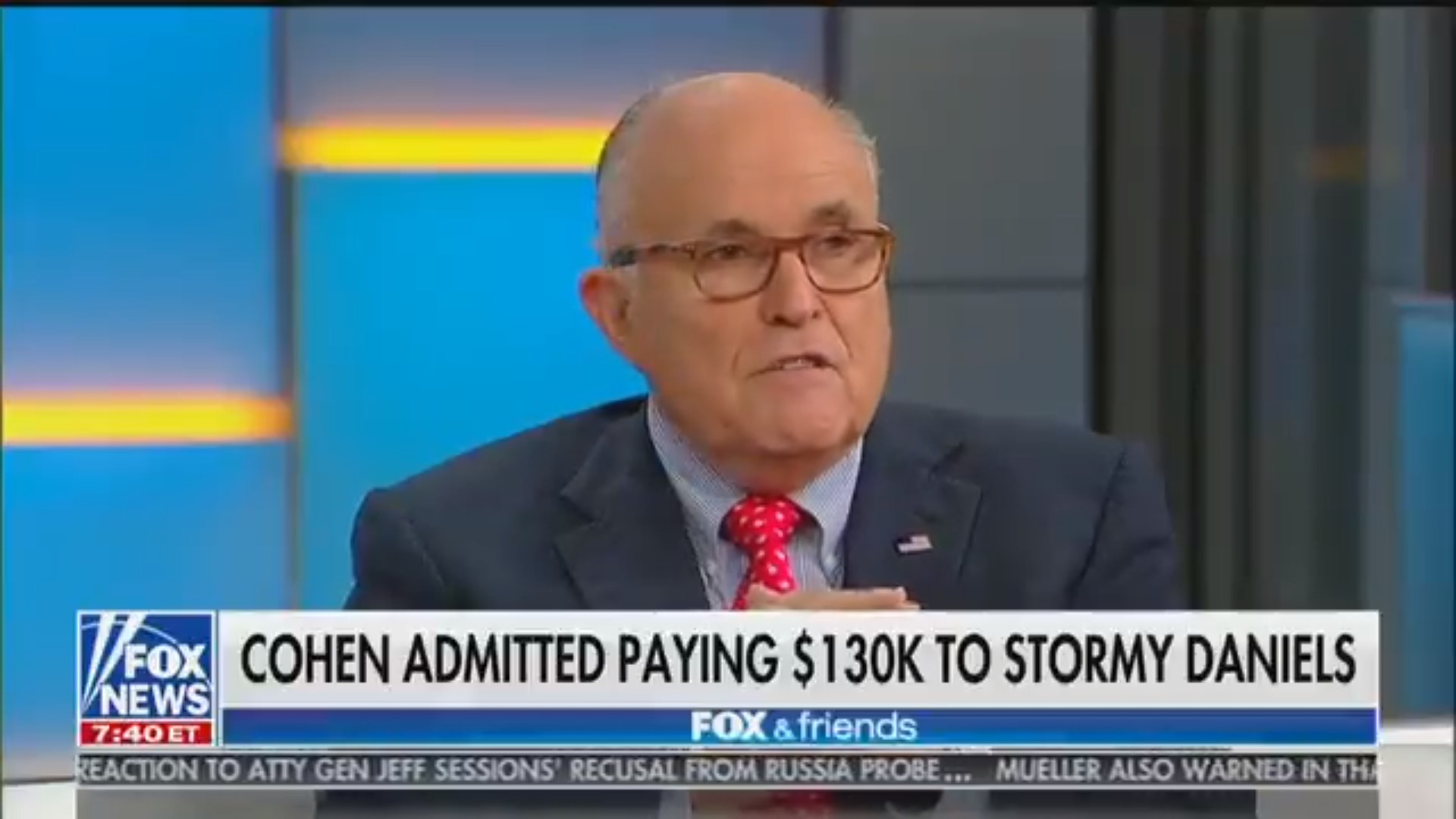 As Trump's attorney, former New York City Mayor Rudy Giuliani is doing a simply bang-up job.
The morning after Giuliani left Sean Hannity shook when he revealed President Donald Trump repaid Michael Cohen for the Stormy Daniel hush payment, the ex-mayor appeared on Fox & Friends and made things even worse for the president.
Having made the case to Hannity and in subsequent interviews that Cohen didn't violate campaign finance laws because Trump reimbursed him via personal funds, Giuliani directly tied the Daniels payment to the 2016 presidential election.
"If we had to defend this as not being a campaign contribution, I think we could do that," Rudy told the curvy couch crew. "This was for personal reasons. The president had been hurt personally — not politically, personally so much and the First Lady by the false allegations."
And then he made this eye-popping statement.
"However. Imagine if that came out on October 15, 2016, in the middle of the last debate with Hillary Clinton," he declared. "Cohen didn't even ask. Cohen made it go away. He did his job."
Welp, that just completely undercut the case he's been attempting to build, a claim that was already dead in the water. Even though Giuliani reiterated during his F&F hit that the arrangement with Daniels was "for personal reasons" because Cohen was trying to help protect the Trump family from false allegations, the damage was done.
Meanwhile, the president sent out a series of tweets Thursday morning in which he wrote that Cohen was reimbursed via monthly retainers and that the nondisclosure agreement arranged with Daniels was a "private agreement" and had nothing to do with the campaign. Previously, the president had denied any knowledge of the $130,000 payment Cohen had made to Daniels.
Watch the clip below.
But in next breath Giuliani contradicts himself, explains that Cohen probably felt compelled to pay Daniels $130k despite no affair actually occurring because "imagine if this came out in the middle of the last debate with Hillary Clinton." pic.twitter.com/3ZXy6so0GK

— Aaron Rupar (@atrupar) May 3, 2018